| | |
| --- | --- |
| Posted on June 28, 2017 at 2:05 AM | |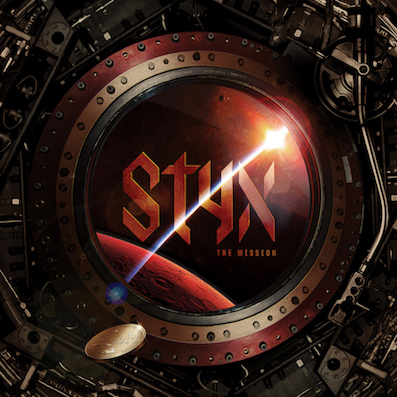 Styx – The Mission
Written by The Rock Man
I love concept records. In fact, some of the greatest albums in rock history are concept records. I also love 70's hard rock and science fiction; so if you blend all these ingredients together, life is pretty awesome. It also happens to be the basis of a bold and ambitious new project by progressive rock veterans Styx titled The Mission.
It wasn't enough that Styx decided to record new material - their first batch of new songs in 14 long years - but they also added the complexity of making it a concept record as well. And then to add a further layer of difficulty to the album the band chose to record it using old fashioned analog technology (it is possible that a younger generation will have no idea what I'm talking about here), a process that nobody uses anymore. The result: one of the most stunning and captivating records I've heard in decades.
The plot line is really simple: a crew of six adventurous space travellers from Earth are on a mission to Mars in the year 2033 aboard the spacecraft Khedive. Naturally, as it so often happens in science fiction, things tend to go pear shaped and the fight for survival ensues. The story develops over the course of 14 tracks or 43 minutes and I'm sure someone will see faint similarities between this tale and that of David Bowie's Space Oddity.
The story is narrated through the characters of The Pilot – Tommy Shaw (vocals/guitar), The First Officer – Lawrence Gowan (vocals/keyboards) and The Cynic – James 'JY' Young (vocals/lead guitar) with the rest of the band playing minor roles and vocally each band member does an impressive job at conveying the seriousness of the crew's plight as the story and album unfolds. Musically, the band taps into a very defined '70s progressive rock sound and coupled with short musical interludes that segue from track to track create a dynamic atmosphere that elevates the material to the next level.
While the album is designed to be enjoyed as a whole experience, it is worth noting a few outstanding moments. Take for instants the groove laden Hundred Million Miles From Home or the phenomenal powerful ballad The Greater Good, that sees Shaw and Gown trade vocal chops with an unrivalled degree of prowess. Red Storm is classic Styx as it trades acoustic guitar parts with smoking electric lead licks and blistering solos and is further enhanced by atmospheric piano sections at the back end. Then there is The Outpost which is simply a triumph of melodic 70's radio rock.
When I first heard that Styx were embarking on recording new music I was pretty stoked. It had been such a long time since they had done anything fresh that I was happy to just have them put out some new product. But I had absolutely no idea just how impressive The Mission would turn out to be, this is good old fashioned record making in every respect. From the genuine 70's sound to the recording process to the craftsmanship and mastery of the playing and writing. They literally don't make albums like this anymore… which is such a shame.
Categories: Album Reviews