| | |
| --- | --- |
| Posted on June 28, 2017 at 1:50 AM | |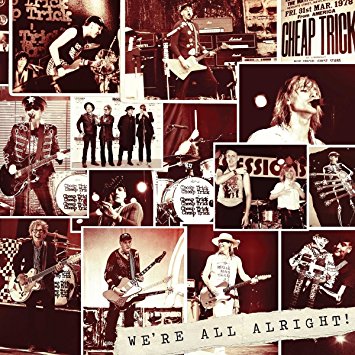 Cheap Trick – We're All Alright!
Written by The Rock Man
When Rock and Roll Hall of Famer's Cheap Trick released their Bang, Zoom, Crazy… Hello! album in 2016, I don't think anybody expected a follow up record so quickly. Yet 14 months down the road these Illinois rock veterans are back with the remarkable We're All Alright!.
This rapid turnaround between records certainly takes me back to era when musicians and bands brought out new product on a yearly basis, even twice yearly on some occasions. These days you can wait 5-10 years just to get an EP off some artists, so the fact that Cheap Trick have managed to knockout two quality records in such a short amount of time is testimony to their work ethic and standards.
I guess one could be forgiven for thinking that an album rushed out in no amount of time would suffer from a lack of character and polish but to the contrary, Cheap Trick have crafted 10 glossy and skillful songs (13 on the Deluxe Edition) that vary from hard rock to punk to psychedelic to good old-fashioned 70's rock in tone and attitude.
The album launches into top gear with You Got It Going On, a track that is best described as loud, hard, driving and overflowing with 70's bluster. This is proceeded by the lead single Long Time Coming which follows a similar formula. From here the band mixes things up a bit with the punkish Nowhere and Radio Lover, the quirky Floating Down, the Beatle-esque She's Alright and the 90's driving hard rock of Brand New Name On An Old Tattoo.
Father Time clearly isn't having an impact on the band either as Robin Zander's vocals sound as fresh, flamboyant and dynamic as they did 40 years ago. While Rick Nielsen has lost none of his flair, innovation and eccentric nature of guitar playing. Tom Petersson, as we've become accustomed to over the years, is predictable and solid as a rock on bass and Daxx Nielsen on his second outing with the band, brings a youthful energy and rich, lively tone to the sonics of the drum tracks.
I have always thought of Cheap Trick as one of those bands that you either get it or you don't. There's really no fence sitting here - you're either a fan or you're not. I like bands that have that kind of 'with us or against us'personality about them and Cheap Trick definitely fit the bill in that regard. I can't imagine that there is anything on this latest effort that will change whatever opinion you hold towards this band.
In this ever changing disposable bubble-gum pop obsessed world we currently live in, it's good that bands such as Cheap Trick continue to defiantly and unapologetically fly the flag for the glory days of rock music. For those of you still out there flying that same flag, We're All Alright! is a worthy addition for collectors of good old-fashioned quality Rock and Roll.
Categories: Album Reviews