| | |
| --- | --- |
| Posted on June 14, 2017 at 1:25 AM | |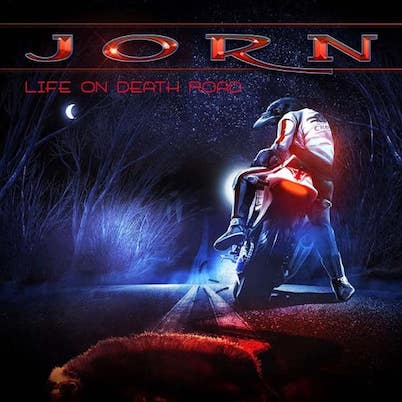 Jorn – Life On Death Road
Written by The Rock Man
It has become just a simple fact of life - today we live in a disposable music world. I have often spoken to friends and other music fans about this topic who are happy to entertain me lamenting the loss of the "good old days" of music collection. Depending on your age, you may or may not remember buying an album of 10/12 songs and racing home to open it and putting it on your stereo system, making sure that you take in every note of every track, from start to finish. Carefully examining every square inch of the album artwork and liner notes and enjoying the experience of this gift from the "Rock Gods".
Today, however, it's all digital downloads and streaming services and no one appears to have the time or patience to sit down and enjoy listening to an album of songs. It's all a single here and there or an EP every now and then, and it should come as little surprise that this generations rock heroes too have forgotten how to create quality records. Which is why I thank the heavens and stars that rock veterans such as Jorn Lande are still on a rock crusade to bring craftsmanship music to the masses.
His latest venture under the Jorn banner, and ninth album of all original material, is titled Life On Death Road. This is a project that is almost 2½ years in the making and the theory behind this is that Jorn wanted to perform, produce and write the best possible result and not just pump out "another Jorn album". It has to be noted that the time taken on this record clearly is visible and the result is a rejuvenated and bolder sounding body of work.
The 7½ minute title track sets a high standard and cracking pace as the album opener. The track, much like the album, is thunderous across the board and showcases the ensemble of heavy hitters from the European metal community the Jorn has brought together for this record. The trio of Primal Fear musicians – Matt Sinner (bass), Alex Beyrodt (guitar) and Francesco Jovino (drums) - are joined by Frontier Records in-house producer and keyboardist Alessandro Del Vecchio and instantly have provided Jorn with a freshness and invigorated approach.
From here the album is littered with songs full of punch, grit and melodic groove, such as Hammered To The Cross (The Business), Love Is The Remedy, Fire To The Sun and The Slippery Slope (Hangman's Rope). There are also two ballads worth noting: the first is the David Coverdale-esque mid-pacer Dreamwalker, while the second is the beautiful piano/acoustic guitar driven The Optimist which is worth the admission price alone. Also on display is Jorn's vocal influences from Coverdale – as I mentioned – to Dio, which is heavily drawn upon on cuts like I Walked Away and Devil You Can Drive. But when it comes to standout moments on the record one can't go past Man Of The 80s which sees Jorn in a reflective mood as he reminisces about days long past.
Overall, if you're looking for musical value for money you'd be hard pressed to find better in this modern, highly-disposable, iTune dominated world. Life On Death Road is a lengthy affair clocking in at 67 minutes - which these days may challenge some with short attention spans – and features nothing under 4½ minutes in duration… like I said, value for money.
Categories: Album Reviews