| | |
| --- | --- |
| Posted on June 14, 2017 at 12:55 AM | |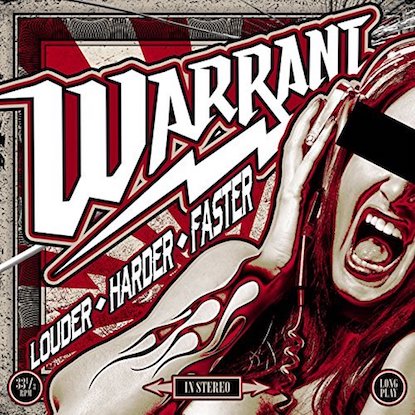 Warrant – Louder Harder Faster
Written by The Rock Man
From the outset I need to acknowledge that this may potentially be the most confusing and contradictory review I've written; and to you - the reader - I apologise. Here is my issue: From the moment I heard L.A. rockers Warrant way back in 1989 I was on-board in a massive way and one of the main contributing factors was the undeniable vocal talent and presence of frontman Jani Lane. When Lane left the band back in 2004 my interest went with him until he briefly returned a few short years later, before leaving once again. Then in 2011 Lane tragically passed away and for me, at least, Warrant just wouldn't be the same with anyone else out the front. However, this hasn't stopped the band from continuing on with former Lynch Mob singer Robert Mason, who finds himself leading the band on their new studio album Louder Harder Faster.
This is Mason's second album with the band following on from the 2011 release Rockaholic and in many ways, like that record, there's absolutely nothing wrong with this collection of new material. In fact, if I close my eyes and with intent immerse myself in the music before me these are very well crafted, polished and performed songs - the kind that would make any other band proud. But then I go and open my eyes and see the giant Warrant logo across the album cover and things just don't seem right because Lane isn't front and centre.
I'll compare it to a jigsaw puzzle missing a piece in one corner. Sure, all the other pieces are there and you can clearly see what the image is but your attention is always drawn to that one missing piece. Yes, four of the original five members are still present and clearly moving on, but it just doesn't sound like the band I grew up on. But, again, the confusion for me lies in that this is a solid piece of work.
High praise must go to producer Jeff Pilson (Ex-Dokken/Foreigner bassist) who has done an outstanding job of creating a very crisp, clean and fresh sounding album. As for the material itself, you get a very clear idea where the album will take you with the opening handful of tracks. The title track kicks of this shindig and took me back to a period around 2007/8 where a lot of former '80s bands were getting back together and releasing new music. At that point all these bands had a certain sound about them and the title track definitely has that kind of feel. It's high energy, hard rock of today but with an acknowledgement of the past. This is followed up by Devil Dancer which packs some serious melodic groove and swagger. The same can also be said of Perfect, Choose Your Fate and Only Broken Heart.
A Warrant album wouldn't be complete without a monstering power ballad and on this project U In My Life fits the bill nicely. But for me, the standout moments came in the form of three tracks: Music Man, Faded and Let It Go which all harken back to that "Classic" Warrant sound.
Normally at this point I'd try to convince you that life won't go on without this release in your collection, however I'm not going to do that here. I know there are those fans fiercely loyal to the Lane era of the band and equally those fans who can appreciate the glory days and embrace the new road ahead. After listening to Louder Harder Faster I'm of the view it's a solid album by any other name other that Warrant. But don't take my word for it, judge for yourself.
Categories: Album Reviews