| | |
| --- | --- |
| Posted on May 12, 2017 at 1:30 AM | |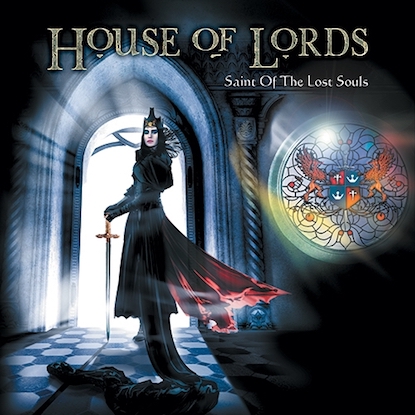 House Of Lords – Saints Of The Lost Souls
Written by Juliano Mallon
It's been two years since the last album from the House Of Lords and, who knows, maybe you're already conformed and accustomed to the change in the sound of the band. Personally, I was very pleased and saw an unexpected - and very welcome - growth of House Of Lords in the face of everything that is currently out there. Well, the new album "Saint Of The Lost Souls" features new songs with a contemporary sound (as expected) but with structures recurring to the first three classic albums released between 1988 and 1992. With a set of excellent songs and participation of familiar names from the House Of Lords universe, this mixture had no way of going wrong.
As expected, the album features a slew of rockers such as "Oceans Divide", the radio friendly "New Day Breaking" and the rhythmic "Reign Of Fire", all highlights and deserving of multiple auditions and maximum volume.
The excellent "Concussion" retains the high level, a fact that is repeated in "Art Of Letting Go" and the great "Grains Of Sand", with a powerful bass line and a healthy dose of weight on guitars. Still featured as highlights are the frenzied "The Other Option", where guitars and keyboards constantly compete for space, just as in "Saint Of The Lost Souls." Once again, we have here highlights of the album that deserve your full attention.
"Hit The Wall" is a sweeping mid-pacer, packed by an obvious bass line and punctuated by precisely distributed guitars. One of the great highlights of the album, no doubt, as well as "The Sun Will Never Set Again", a power ballad with classic arrangements that brings a perfect interpretation of the great James Christian. This is one of the highlights of the album, as well as its acoustic version (bonus track of the Japanese edition), which marvelously highlights the keyboard layers, transforming the song completely. A beautiful way to end the album, no doubt.
In short, House Of Lords shows - once again - that is in top form. The set of songs on "Saint Of The Lost Souls" lives up to the best moments of the band's career and shows their ability to reinvent themselves; just as they had done on their last two works. Still, B.J. Zampa (drums) and Jimi Bell (guitars) justify their presence in the band, with precise and solid performances, as does Chris Tristram, the new bass player. And what about vocalist James Christian? The man continues to impress with capitalized interpretations, showing why he is one of the most respected names in the melodic hard rock scene. It's easy to say that the new album by House Of Lords is one of the best of the year, but also of his career, which makes it mandatory in your collection.

Categories: Album Reviews