| | |
| --- | --- |
| Posted on May 12, 2017 at 1:15 AM | |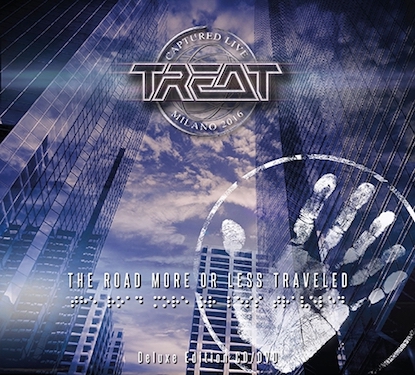 Treat – The Road More Or Less Traveled
Written by Juliano Mallon
On April 15th 2016, Treat released the gigantic "Ghost Of Graceland," unquestionably one of their best albums and which was eventually singled out by many as the best album of the year.
Only ten days later, the band performed at the Frontiers Rock Festival in Milan, Italy and thanks to the gods, someone had the brilliant idea of ​​recording the show that is out now; including a beautiful Blu-ray version. With a not-so-comprehensive tracklist, which includes material from the classic "Coup De Grace" (released in 2011), "The Road More Or Less Traveled" is an excellent register of Treat in action, as one can imagine.
Here, the maximum volume and multiple listens are applicable to all songs.
The album has a devastating start with "Ghost Of Graceland", "Better The Devil You Know", "Nonstop Madness" and "Ready For The Taking", five towering rockers and worthy representatives of Treat's sonority, always putting guitars and keyboards in the frontline.
The massive "Papertiger" follows the series of good sounds, followed by "Endangered", "Gimme One More Night" and "Roar", in another series of overwhelming rockers, forged on the best Swedish tradition.
There are also two more introspective moments, represented by the ballad "Do Your Own Stunts" and the spectacular mid-pacer "We Own The Night", which gains an even larger dimension on this live version. If you had already tasted that song on the album "Coup De Grace", get ready for a great surprise.
And there are even more rockers that can cheer up souls, such as "Get You On The Run", recorded on the band's first album, "Conspiracy", the monstrous "Skies Of Mongolia" and "A World Of Promises" which closes the album in style.
In short, "The Road More Or Less Traveled" is a great live record of Treat. Any fan will miss one or another song, but there is no denying that the material chosen for this show satisfies without difficulty. In full form and with a series of good songs on their hands, Treat delivered a lean show, but with fun and of a high level (Blu-ray will confirm this). And I did not praise any song as a highlight because it seems impossible, since the series of songs is stunning and the performances more than inspired. So, there's no way you cannot say that "The Road More Or Less Traveled" is more than recommended.
"The Road More Or Less Traveled" is out now

Categories: Album Reviews