| | |
| --- | --- |
| Posted on May 12, 2017 at 1:00 AM | |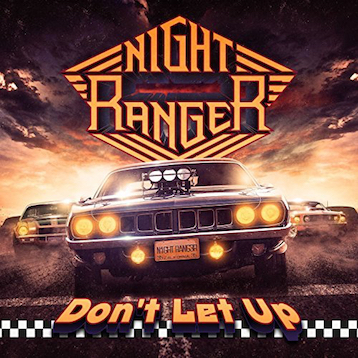 Night Ranger – Don't Let Up
Written by The Rock Man
You wouldn't expect to find too many bands that have been around for 35 years to be expanding their operating parameters so deep into their careers. And yet, after hearing Don't Let Up, the newest offering from Californian hard rockers Night Ranger, that's exactly the feeling I got from this blistering body of fresh and dynamic material.
All the elements that fans have come to expect from Night Ranger are there and present from the dual vocal superiority of bassist Jack Blades and drummer Kelly Keagy to the emotionally melodic guitar work of Brad Gillis to the well-structured song writing and well executed musicianship and harmonies. But on this record they have added a new element, a grittier and edgier drive. I'm not for one second suggesting this is a "metal" album by any means but there is a "heavier" feel throughout. Possibly this could be due to the inclusion of guitarist Keri Kelli (Alice Cooper/Vince Neil Band/ L.A. Guns) to the fold.
It's fair to say that on Don't Let Up that Night Ranger have come armed to the tooth with a collection of tracks that come charging at you like a bull out of a gate. The opening track Somehow Someway is a perfect example of what I'm talking about. The standout feature of the song is its high energy, maximum spunk and exhilarating full steam ahead approach, perfectly balanced with all the trademarks that have become identifiable with Night Ranger's sound over the journey; in addition to the scorching guitar solo that takes no prisoners.
Further examples of this can be found on cuts like Running Out Of Time, Night And Day, Comfort Me and Say What You Want. The album deviates briefly from this blueprint ever so slightly on the bluesy, piano-bar driven feel of (Won't Be Your) Fool Again and on the melodic acoustic driven mid-pacer We Can Work It Out - and no, this track has nothing to do with the 1965 Beatles song of the same name. But in terms of classic, radio-friendly, big chorus, 80s hit style Night Ranger, the absolute standout moments come from Truth, Jamie and the title track.
I have said this before - and at the risk of sounding like a broken record - you don't survive in this business for any length of time by accident; you have to be doing something right. Night Ranger are clearly one example of a band that knows how to produce simple, quality product time after time that has struck a chord with millions of fans the world over for decades.
If I was to suggest that the band's 2016 live CD/DVD package: 35 Years And A Night In Chicago was a solid testimony to the band's remarkable career and staying power, then there is little doubt in my mind that Don't Let Up is tangible proof that the next chapter in Night Ranger's history is going to be extraordinary.

Categories: Album Reviews