| | |
| --- | --- |
| Posted on May 12, 2017 at 12:50 AM | |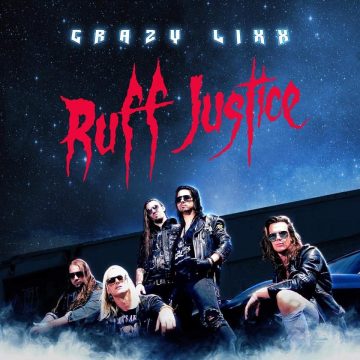 Crazy Lixx – Ruff Justice
Written by Juliano Mallon
Three years after the release of their last album of new material, Swedish quartet Crazy Lixx returns to the scene with "Ruff Justice". With a new guitarist on board, the band has put a lot of energy into their compositions and maintained, in general, the sound that made them famous. But there is a good melodic dose in all of the songs and a healthy reduction in the exaggerated heavy aspect that, little by little, has been introduced into the songs of the band. Not that it was harmful, but it also didn't sound so natural when compared to what the band had already done, as opposed to what they have been doing. But now the guys are back on the right track and have delivered a great album with Chris Laney's polished production.
The album is full of rockers, as expected, and the tonic is well presented with "Wild Child", one of many highlights of the album. Further highlights include "XIII" and "Walk The Wire", where well-cut guitars inject nitroglycerin into surrounding melodies. Oh, and the choruses are absurdly clingy, the sort that echoes in your auditory pavilions for hours.
There are still other good examples of the classic sonority of the band, as in the explosive "Shot With A Needle Of Love", "Killer" with its variation of tempo between verses and chorus, "Hunter Of The Heart", an imposing rocker - and with excellent refrain - and who figured among the highlights of the album.
In the final stretch we have the great rocker "Snakes In Paradise", the ballad "If It's Love" and "Live Before I Die", a devastating rocker and deserving of your total attention.
In summary, "Ruff Justice" is an album worthy of the name that Crazy Lixx has built over the years. There is still one or two heavier songs, however, the album brings a series of tunes with greater melodic range and invariably refers to their first - and more fun - works. In fact, there is no big news here, but who cares ? I often say that I prefer the "more of the same with quality than the disposable modern trend". With this album, Crazy Lixx definitely reinforces my idea and reiterates its musical identity unmistakably with a consistent album; convincing and more than recommended.
"Ruff Justice" is out now, on Frontiers Records. 
Categories: Album Reviews