| | |
| --- | --- |
| Posted on April 11, 2017 at 12:30 AM | |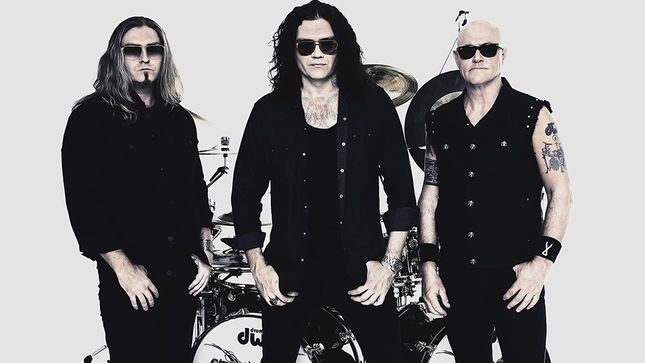 Australia has an abundance of talented Rock and Roll bands and musicians. Yet, sadly many of them don't get the recognition and support they deserve. For reasons I cannot explain many of these gifted artists have to leave our shores and travel half a world way to find the success they crave. Sydney Rockers Strange Karma are just another example in a long line of bands that have ventured down this path, and after many years of mastering their craft the band's hard work pays off in the form of their new album "Cold Blooded". I recently caught up with lead singer/song writer/guitarist and piano player Martin Strange to explore the band's history, the music industry, and the new album "Cold Blooded".
Rock Man: Firstly, thank you Martin for your time today; I really appreciate it. For the benefit of those who may not have heard of Strange Karma can you give us a brief rundown of how the band came together?
Martin Strange: The band came together around 2004 in Sydney, Australia. Paul (my brother) and I had spent 3 years in the UK touring with our first ever band. Living, playing and working, making as many mistakes in our journey that most young people do. No management, no money, giving us thicker skin each day. We returned to Australia tired and emotionally bruised, feeling like we had lost everything. We asked ourselves if we should be trying again, never really knowing what the future holds. After placing an ad in the local music magazine and several auditions later we found Jason McDonald, a hard-hitting old school drummer who had incredible passion for music and his kit. He restored new enthusiasm to our music in every respect, giving 100% just like we do. From then on Strange Karma was born.
RM: You often hear bands talk about themselves as being like brothers. But you actually share this band with your brother Paul. That must be a wonderful experience to share that between the two of you and to know that he has got your back 100%.
MS: Yes we do have each other's back 100% in music and in business. The way the industry is today, if you have less than 100% and have no idea where you see yourself you will never make it. We have never been spoiled like most bands back in the day with record deals, money and bullshit. We had to fight for everything in the most difficult times when rock 'n' roll is not even on people's lips anymore and being physically far away from the rest of the world. It is very rewarding to have an album like Cold Blooded and we are all very proud of this record and our story.
RM: As a youngster, who were the bands/artists that inspired you to become a musician?
MS: First ever rock 'Star' I ever knew at age 3 or 4 was Jimmy Hendrix. Our Dad had a red guitar with his face on it. My good night songs that Dad would play for me would be Hey Joe or he would play John Mayall or something. Music was always around especially older rock 'n' roll. Good music always inspired me and has driven me. I'm sure Paul feels the same way.
RM: There are those within the media who have described you as a blend of Led Zeppelin meets Queen. Do you think this is a fair assessment of the band's sound?
MS: Look, there will never be another Led Zeppelin or another Queen and no front man should ever front those bands ever, it's almost comical really. I think what people might be saying is that Strange Karma might have that diversity, confidence, colour and shade, as Jimmy Page puts it referring to Led Zeppelin. Great bands are never one dimensional so I'll take that as a complement.
RM: In 2014 the band released its first album America. Can you tell me about your experience recording that album and the general reception you got from it?
MS: We recorded our first record in Melbourne, Australia. It took about a week to record; it was very quick, in and out type situation. Very raw really, we had released it ourselves and gained very warm and positive feedback in America. The record never had any backing but it created relationships and bridges in the industry. We needed something to start our career with. I really think it's a great album and a time capsule for the bands starting point.
RM: The new album is Cold Blooded and it's your second record. What lessons from recording the first album did you apply to the recording of this one?
MS: Cold Blooded was our first record that had pre-production. Songs that have been arranged in a way that will be more radio ready. But don't get me wrong it had to have our true colours all over it. We had spent more time in pre-production than the actual recording process. It took about 3 weeks including a mix down. So once again considering what's on it, we worked very quickly and efficiently. We are very proud of this record and it's a great snapshot of what we do and like to play.
RM: I would imagine that you are very proud of this record and the final result. But upon hearing the completed product has it exceeded your expectations or did you have a clear vision of how you wanted this album to sound?
MS: I really think we nailed it. Like I said before we are very happy with this record, it truly kicks ass. We always do our best in any situation that we face. There are many challenges that you face recording a record especially when you have to coordinate everything, time and distance etc. So yeah we killed it.
RM: The lead single from the record is Devil From The Moon. What sort of feedback have you received from fans and media?
MS: People are loving it, the media is loving it and radio are playing it. We are getting a lot of very positive feedback on the song, and the whole record.
RM: Of the 10 songs featured on the album do you have any standout favourites or ones you look forward to the most to playing live?
MS: I really enjoy all the songs on this record they are all challenging in their own way. I particularly like playing Dreams it's lots of fun. Some music critic in a review somewhere called it Strange Karma's Opera.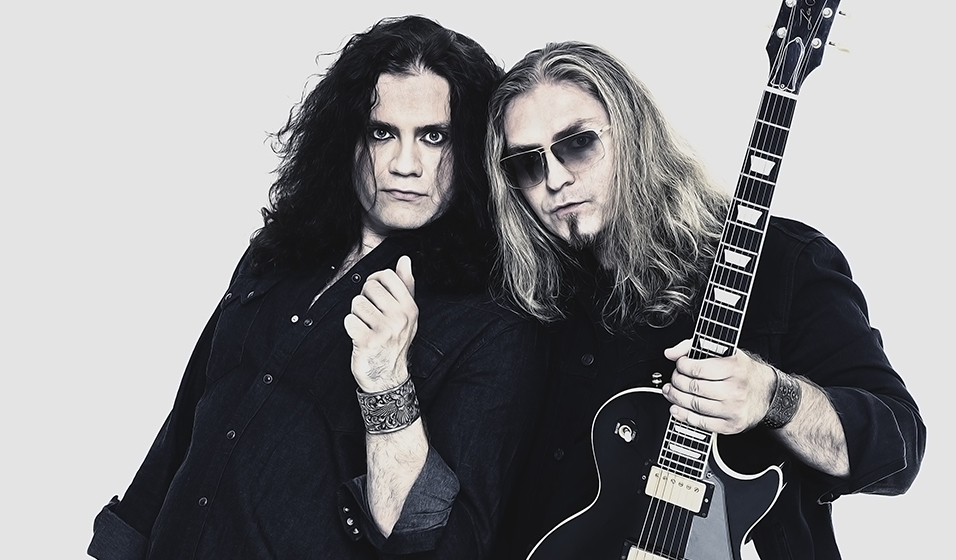 RM: I find it fascinating that in an age of digital downloads and declining CD sales you've chosen to release this album on vinyl only. Can you tell me about the thought process there?
MS: I think we all need to chill out a little and go back to basics. Freddie Mercury once said that technology will kill music and it did. The only way forward is back. People seem to have absolutely no attention span what so ever any more, playing music in passing never really hearing it. People are disconnected from everything. Vinyl record sales are doing well. People are starting to get it. The younger generation are buying vinyl so maybe we are looking at a new music revival. Vinyl is our way to get back to the raw human emotions that made music amazing in the first place. Let's go there.
RM: I hear a lot of debate amongst bands these days about whether it is worth recording full length albums or just releasing bits and pieces via iTunes. What are your thoughts on the full length album?
MS: To be honest I don't really know what other bands do. If they release a song on iTunes maybe they don't have the songs to record a full album. I really don't know. We have always done our thing, and we always follow our gut.
RM: While you have a loyal fan base in Australia, the band has spent a large amount of time developing and building a name for yourselves overseas. Particularly in the UK and also in the United States - is it disappointing that you can't obtain that same level of success in your native country as you do elsewhere?
MS: I don't think we are anywhere there yet with this question. Everything that we have done was our own development. Testing the waters and gaining very valuable experience. We are hoping that this record will present an opportunity and will be able to give us more exposure.
RM: There are a lot of similar stories about Australian bands that have had to leave the country and go find success overseas, Airbourne for example comes to mind. I find it really sad that they can be a drawcard of the Wacken Open Air Festival in Germany, but can only fill a 500 people capacity bar when they come home. Do you have any thoughts on why it is this way for Aussie bands?
MS: Tall poppy syndrome is alive and well in Australia, as it always has been. It is very sad that great artists get no backing form the industry and its people. I have no idea what to say on this matter, some people pretend that it's all good and the industry is healthy here, it's been like this for as long as I can remember. It seems like it will never change, I don't know exactly what it is. You can only turn it into a positive, conquer the world and stick it up their asses[laughs]! Actually it's funny when I hear some industry people say, 'oh I haven't heard of these guys before' well where the hell are you looking? Are they even paying attention to what's going on? Seems like no one really cares sometimes. Another story, a few years back now we went to one of those music industry seminars, you know the ones with a panel of industry folk sitting up on stage telling people what it is they need to be doing? Well one of these guys who was from like EMI started talking about what they are looking for in a band. How they are looking for bands that show signs of longevity, dedication and hard work, how you have to be bold and believe in yourself, not be afraid to stand up and take the risks. Well as soon as this guy finished talking, my brother got up from his seat at the back of the room and walked straight over to the stage and in front of everyone said 'We've got everything you're looking for man, we're on at the marquee tomorrow night!'. I remember the guy smiled and said to the crowd 'see that's what I'm talking about' – ha! you think that guy even showed up? So just keep on pushing, and don't worry about anything, they will come when all the hard work is done.
RM: In general, how do you see the state of the music industry and Rock and Roll's place in the world?
MS: I like to think positive, that one day the laptops will be put away and real music will cut through. The problem is good music costs money to develop and the industry is not happy to spend the money for development. I don't see many guys like us that have done the development, recording, touring and taking incredible risks to prove a point to ourselves and the industry. It's all too hard, people would rather play a nostalgic rock 'n' roll hero out there in a pub for a bullshit pay check and never dare to even start their own journey. It's a bloody cover band epidemic out here. I hope there are many more guys that stick to what they've started.
RM: In your opinion, what are the 5 most important albums ever recorded?
MS: Wow this is a hard one.
1 -The Beatles - Abbey Road.
2 - Led Zeppelin 4
3 - Deep Purple - In Rock
4 - Queen - A Night At The Opera.
5 - Jimi Hendrix - Electric Ladyland.
RM: What advice can you give for anyone looking to make a career out of music?
MS: Be prepared for War. It's going to be the hardest thing you will ever do. And only you know if you are cut out for it. Listen to your gut.
RM: What are your touring plans going forward to promote Cold Blooded and do they include Australia?
MS: We are optimistic that the record will be received well and that we will tour it worldwide.
RM: Once again, congratulations on the new album Cold Blooded. On behalf of everyone here at Full Throttle Rock I would like to wish you and the band all the best for the future.
MS: Thank you for the interview, really appreciate it. Many Thanks to the Full Throttle Rock team!! Rock will never Die!!
For more information about Strange Karma visit the band's official website at: www.strangekarma.net
Strange Karma – Cold Blooded is available through the band's website.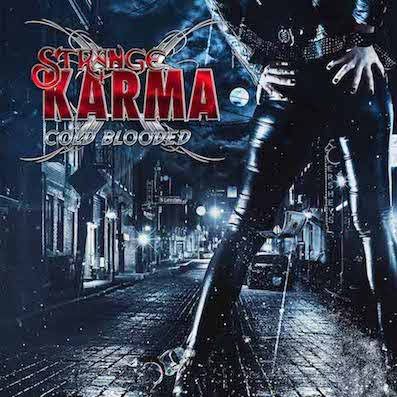 Categories: Interviews