| | |
| --- | --- |
| Posted on March 31, 2017 at 12:20 AM | |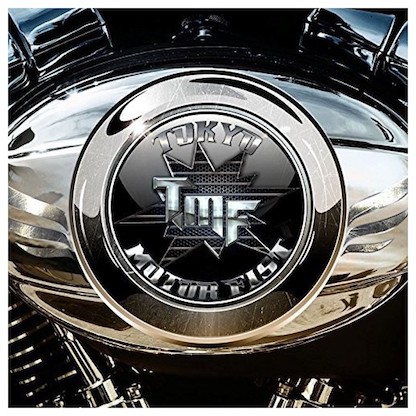 Tokyo Motor Fist – Tokyo Motor Fist
Written by Juliano Mallon
Since its announcement, few projects have excited me as much as the Tokyo Motor Fist. A band that reunites Ted Poley (one of the most recognized voices of the universe AOR/Melodic Rock and eternal frontman of Danger Danger) and the excellent Steve Brown (one of the minds responsible for Trixter's success) is born with great responsibility at hand. They're joined by bassist Greg Smith (who has played with Alice Cooper and Ted Nugent among others) and great drummer Chuck Burgi (whose resume features sessions with Rainbow and Joe Lynn Turner, among many more) and you start to convince yourself that the idea will fly.
But if you expect a mix between Danger Danger and Trixter, I should warn you: that's exactly what you'll find on this album! Every miserable dime invested in the acquisition of the Tokyo Motor Fist album brings immediate return, believe me.
To say that the album is full of exciting rockers is far too obvious if we take into account the influences from the band's where Poley and Brown act. But I'll play the role of Captain Obvious and highlight "Pickin' Up The Pieces," "Love Me Insane," "Shameless," and "Black And Blue," all explosive rockers, boosted by guitars in the foreground and overpowering vocals. I recommend multiple auditions, maximum volume and may the gods protect your neighbors ...
The songs above were enough to convince me to buy the album, but I still had more to cheer up. The fun continues with the frenzied "You're My Revolution" as well as the great "Put Me To Shame", the imposing "Done To Me" and the thrilling "Get You Off My Mind." All three songs are easily singled out as album highlights and are also worthy of the already-known peak volume and multiple listens.
But there's more! The touching "Love" is a mid-pacer that will certainly bring shivers to the coldest of creatures so beautiful is its melody, a fact that is also present on "Do Not Let Me Go", an exciting ballad with a neat arrangement. The last nail in the coffin lid is "Fallin 'Apart", an explosive and contagious rocker also among the highlights of the album, thus deserving of ... ah, you already know.
In short, fellow rockers, there is no doubt Tokyo Motor Fist's debut is one of the highlights of this year. I'm not afraid to go wrong when I say that this album will be a benchmark for many albums yet to come and I still say it will not be an easy task to match this work. The sound between the best and brightest moments of Danger Danger and Trixter works to perfection in every song, thanks to the inspired performances of Steve Brown and a precise Ted Poley. May this be just the first of many Poley/Brown albums. If this early in the year you only have money enough to buy one album, let it be this one. A simply mandatory album in your collection . Tokyo Motor Fist is out now, on Frontiers Records.

Categories: Album Reviews