| | |
| --- | --- |
| Posted on March 30, 2017 at 11:50 PM | |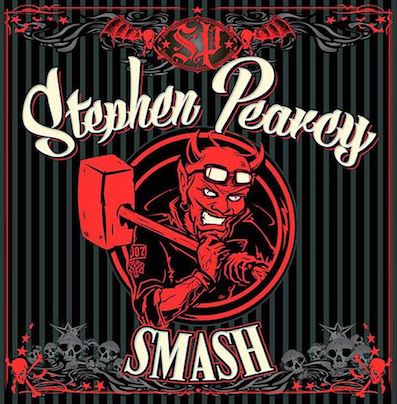 Stephen Pearcy – Smash
Written by The Rock Man
During the 1980s, the Sunset Strip – in West Hollywood, California – was dominated by the glam hard rock scene. Bands such as Faster Pussycat, Enuff Z'Nuff, L.A. Guns and the like ran riot on the Strip and leading the pack were three major players of the genre: Motley Crue, Poison and Ratt. All three would go on to have their moment in the spotlight and at one point or another become darlings of MTV. But what made Ratt standout above the crowd was the raw, raspy, energetic and distinctive voice of lead singer Stephen Pearcy.
In the same way as you knew instantly who you were listening to when you heard a Cinderella song back in those days, the same was also true of Ratt, largely due to Pearcy. However, like most of these bands, the 1990s were not kind to Ratt and the band would "disband" or be "on hiatus", depending on who you spoke to. In any case, Pearcy would leave to pursue other ventures.
One of those projects would be a solo career which has yielded the Californian native four solo records. But unlike his tenure as the frontman for Ratt, his solo efforts haven't always been met with glowing acceptance with many fans divided and opinions often polarised. Despite this Pearcy continues to create and record new music, and maybe with the release of his new studio work Smash fortune may smile once again.
In simple terms Smash comes across as a blending of classic '80's sounds and attitude with a modern day rock and roll twist. I have always believed that the opening couple of tracks should lay out for you what is to unfold on the rest of the record; and the opening songs on Smash serve this purpose well. We kick off with I Know I'm Crazy, which mixes raw, edgy and gritty contemporary sounds with melodic attitudes from yesteryear. This formula also aids Pearcy well on tracks such as Dead Roses, Want Too Much and Passion Infinity. And then there are the songs, which no matter how hard Pearcy tries, just sound like they belong on a Ratt record. Cuts like Ten Miles Wide, Hit Me With A Bullet, Rain and I Can't Take It ooze '80s decadence and that distinct Ratt attitude and flavour which would become their trademark.
Overall the production is pretty solid, something that is often criticized on previous outings and the band is solid also. Pearcy gets a lot of criticism for continuing his career and many fans feel he has had his day and should hang up the microphone. But what I discovered on Smash is a pleasant surprise and not what I was expecting. If this was an album under the Ratt banner, I'd be pretty satisfied with the result.
Categories: Album Reviews