| | |
| --- | --- |
| Posted on January 30, 2017 at 10:05 PM | |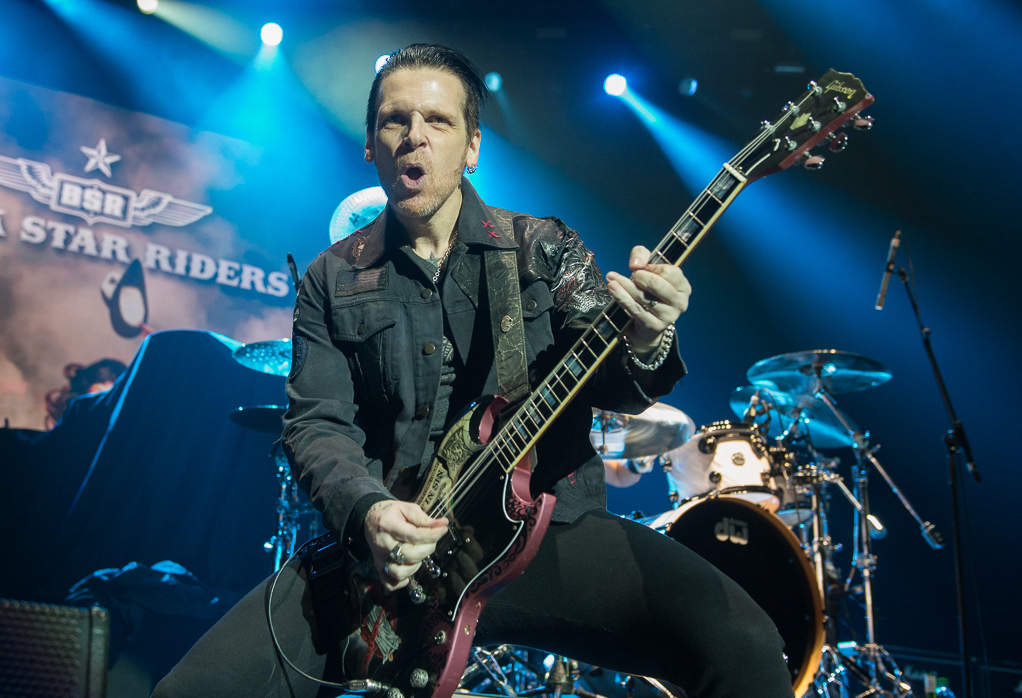 Interview with Ricky Warwick
By Dave Smiles
Ricky Warwick is a seasoned veteran of rock n roll. He's lived the life and shows no signs of slowing down, especially with the upcoming release of Black Star Rider's third album Heavy Fire. The man continues to write great songs that are from the heart and are filled with the rock n roll spirit. I was lucky enough to talk with the man about the writing and recording of the album, life on tour, and what's coming up for Black Star Riders.
First up, congratulations on the upcoming new album Heavy Fire. What can fans expect from this new album?
I think they can expect ten amazing, in your face sounding Rock N Roll songs. Lots of guitars. Lots of big choruses.
All Hell Breaks Loose was recorded in twelve days, and The Killer Instinct was recorded in twenty-one days, if I'm not mistaking. How long did you guys take with this one?
Ah we cheated on this one, we recorded this one in twenty-six days.
So it's getting a bit longer with each one.
Yeah either we're getting worse at recording or we're just taking more time… No, we wanted to take a bit more time. It's really down to budget and we had a bit more money to play with making this record. Thanks to the success of the last two which is great. So we were able to take a bit more time.
With the success of the previous two albums, was there a need to top what you've already done or did things just come naturally?
I think it's just a need of it's what we do. It's our job, you know. We chose to be musicians. We chose to be artists. I get up every day and to me it's a job like anything else. I want to write, I want to perform, I keep pushing myself forward. I think that's the same for the other guys in the band. We enjoy touring, we enjoy playing, we enjoy recording so we want to keep doing it for as long as we can.
It's the second time you worked with producer Nick Raskulinecz. What does he bring out of the band?
He's got a wealth of experience with the successful records he worked on before with RUSH, Alice In Chains, Foo Fighters and Korn. He's got a great musical ear. He's a genius when it comes to arranging stuff like that. He's a great guy. He becomes like the sixth member when we're together with him and he's pushing us hard, trying to get the best out of us. As musicians he works us really hard. He's got a great studio. He's got great equipment in his studio. He's got a great ear for a great song. It's a real joy working with him.
Is there ever a time when he says you should do something a certain way and you don't agree with him?
Yeah, I argue with him a lot. And I think that's good because I don't want someone coming in to say 'Everything's amazing and it's all brilliant. Go ahead and record it'. He's always taking things apart. He's just great. A lot of times he's right but sometimes I'll disagree with him. We'll have it out and we'll discuss it. There's a great example on the new album. The last song's called Letting Go of Me. We'd written twenty songs. We were in pre-production putting the songs together and Nick was like, 'I think you should write one more song.' I was like, 'What are you talking about, we've given you twenty solid ideas.' He was like, 'I think you've got another song.' I'm like, 'Dude I'm not writing another song. No way, you know.' But he's like, 'Nah, man come on. You can write one more song.' So he got me really wound up and then everybody left the studio and I stayed behind. I was really really pissed you know, like How dare you, man. I've given you twenty songs. Still you want another song out of me. Alright, I'll fucking write you another song (laughs. I stayed behind and I wrote Letting Go Of Me about Nick Raskulinecz and how angry I was at him for forcing us to write another song and there you go. It ends up on the album. So he played me. He totally pushed the buttons on me, got the Irish temper. I fell for it. Wrote a song. It's a great song. Ends up on the record. I guess that's the genius of the man right there.
So with twenty songs, how do you decide which ten are going to end up on the album?
(Laughs) That's where Nick comes in. That's where we argue. I think you get a flow. You get twenty amazing songs, but you need to get them down to ten. So you've got to pick the ten that go together to make an album sound cohesive, if that makes sense. There's a couple of songs that didn't make that album that I think are really really really good songs that I felt maybe should have been on there, but they didn't quite fit in with the makeup of the album this time round. Hopefully, we'll look at them the next time around. Whatever flows, what makes the album sound good. What ten songs you think fit together to best represent where the band is at at that time.
I'm glad you brought that up actually, because I was going to mention that Black Star Rider albums have an old school ideals of an album with beginning, middle and end. It has a flow. In the modern world, where people just download a song here and there, not many people worry about that anymore.
Yeah, I'm glad you picked up on that. It's something we're proud of. We feel people should take the time to sit down and listen to a whole record and make it an experience instead of just flicking track to track. But with the way everybody's attention span is at the minute with the internet, people just seem to forget it's an album, it's supposed to be listened to all the way through. That's something that we try and focus on.
Has the way the band approached song writing changed over the years?
No. It's pretty much myself and Damon Johnson who do the bulk of the song writing, and Scott Gorham, and this time around Robert Crane chipped in with some great riffs. Scott always brings in some killer, killer guitar riffs which we'll work into songs. But, it's always myself and Damon Johnson who do the bulk of the work and the writing. And that's cool. It's great that the rest of the guys believe in us and respect us enough to let us get on with that, knowing that we'll bring in some great stuff to the table.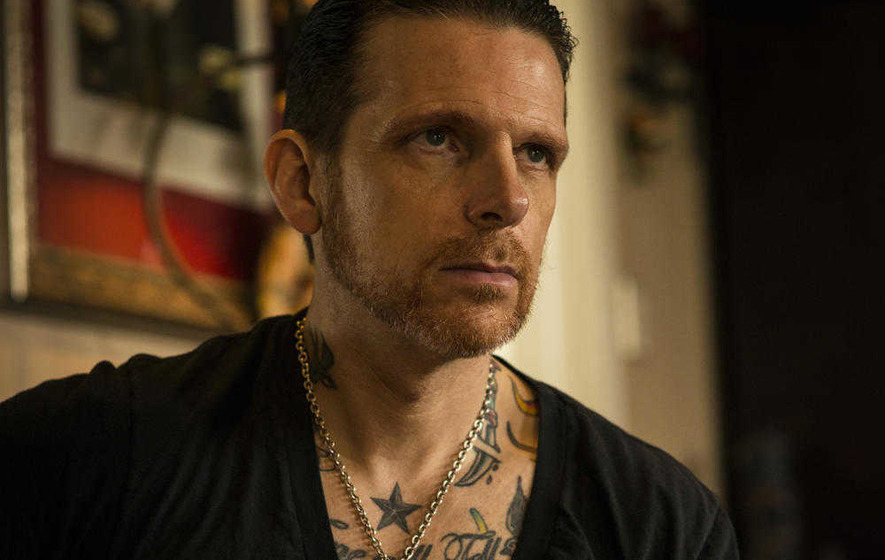 When you're writing lyrics are they personal or are they more observations of things around you?
They're both. Personal observations I guess is the best answer. I write about anything and everything. I write about family, friends, things that I've seen on TV. My opinions on stuff, I think it's really like keeping a diary. I write a lot of lyrics before the music. I've got a notebook full of lyrics, I guess you'd call poetry. I'm always writing stuff down. It's not really, with us, the music comes first. A lot of the time the lyrics come first and we'll build a song around an idea like that. But, you know, it does work both ways as well.
Are there any songs that are hard to perform live, due to the subject matter?
Um… no. I think that's what makes them easy to perform because I believe in them so much and there's so much of myself invested in them lyrically so when I'm singing them they're 100 per cent from the heart, so I think that makes it easier if anything.
Is there any pre-show rituals that you go through before stepping up on stage?
Ah yeah a really simple one. We all do a shot of whiskey.
Nice!
That's it. Just stand around, do a shot of whiskey and then go play.
So you guys have been around, in various bands, for many years now. Do you sit back stage and share stories or is it just drink cups of tea and read the paper these days?
Oh yeah, there's lots of war stories on the road. Half the time that's what you're talking about. The time you did this, or you did that. That's part of the on the road camaraderie. It's obviously great to hear Scott Gorham stories from back in the day with Thin Lizzy, which I never get tired of hearing of hearing those stories with him and Phil (Lynott). Pillaging and plundering around the world.
It would be pretty cool to sit back and hear Scott talking about back in the day.
And he's great at telling them as well. I think I've heard some of them twenty times but I never get tired of hearing them.
Besides that, how do you pass the time when traveling between cities?
In Europe you've usually traveling overnight and usually wake up at the venue. During that day if there's promo stuff to do you take care of that, and play a bit of guitar. Me, I like running so I'll usually go for a run somewhere or find a gym and do something like that. Check in back home, make sure everybody's okay back home. So it's pretty easy to fill up your time. A bit of sightseeing.
With your experience in bands over the years, what have you learnt that you bring to this band that keeps things running smoothly?
I think stick to your guns, have a strong belief in what you do and have a great work ethic. Be together and work hard. Don't leave anything to chance. Make sure that you're keeping an eye on all aspects of it, music and business wise. I think that's what I've learned over the years.
What advice would you give to a young band starting out these days?
(Laughs), I think what I just said. Make sure you keep an eye of the business side of things just as much as the music side. No, I think you've got to have great songs. As much as you can try and look freaky and be the greatest looking band in the world if you don't have any tunes or any songs than you don't have anything. You rehearse, and write as much as you can and keep perfecting and working on your song writing skills and believe in what you do. At the end of the day, your bit's entertainment. You have to entertain people so you got to give them something they can catch on to and believe in and feel a part of.
Who were some of the early bands, as a kid, that really inspired you to do it yourself?
I think obviously Thin Lizzy, that's a no brainier. I'm a massive Thin Lizzy fan. Stiff Little Fingers, a punk band. The MC 5, Motorhead, Ramones, AC/DC, those kind of bands I was really into as a kid. I liked The Clash as well. But I like all kinds of stuff as well. I always liked Johnny Cash, Merle Haggard. So I've always had a wide range of musical tastes.
When you're writing a song do you try to latch on to your influences or does it just flow out naturally?
I think it just flows, I think. Obviously your influences are in there. Sometimes you can draw upon them, sometimes they just come out naturally. It just depends on what kind of song you're writing. I tend not to listen to other artists too much when I'm writing, for obvious reasons.
Any songs on the new album that you're particularly looking forward to performing live?
Yeah, I think most of them actually. I'm looking forward to playing Who Riders a Tiger. I think Heavy Fire is going to be great. When the Night Comes In will be pretty stellar. I'm just glad with how the record came out. It's a real anthemic album and I think most of the songs will be pretty stellar live.
Now that you've got three albums under you belt, how do you decide what goes into the set list and what gets cut out?
I think the lead tracks and singles; you always play them cause they're the ones that people know with radio play. So they're a given, and then you just get an idea for what will work best in the live situation. And we get a feel for what the crowd want to hear, what are their favourites. I think with the new record we have an idea with what we want cause we just know after how many years of playing that this one's going to work really well live more so than this other one, and stuff like that. Sometimes you get it wrong, but you can always chop and change when you get out there.
So what's the plans for Black Star Riders for 2017?
Just touring, trying to promote this record as much as we can, and get to as many places as we can and see where it takes us.
Any plans to come down to Australia soon?
We'd love to get back to Australia. We haven't been there with Black Star Riders, so it would be great to come down for the first time with the band. I know we're working on it, to definitely get down there on this album.
For More information about Black Star Riders visit the official website at: www.blackstarridrs.com
Black Star Riders - Heavy Fire is available on Nuclear Blast Records.
Categories: Interviews