| | |
| --- | --- |
| Posted on January 26, 2017 at 8:00 PM | |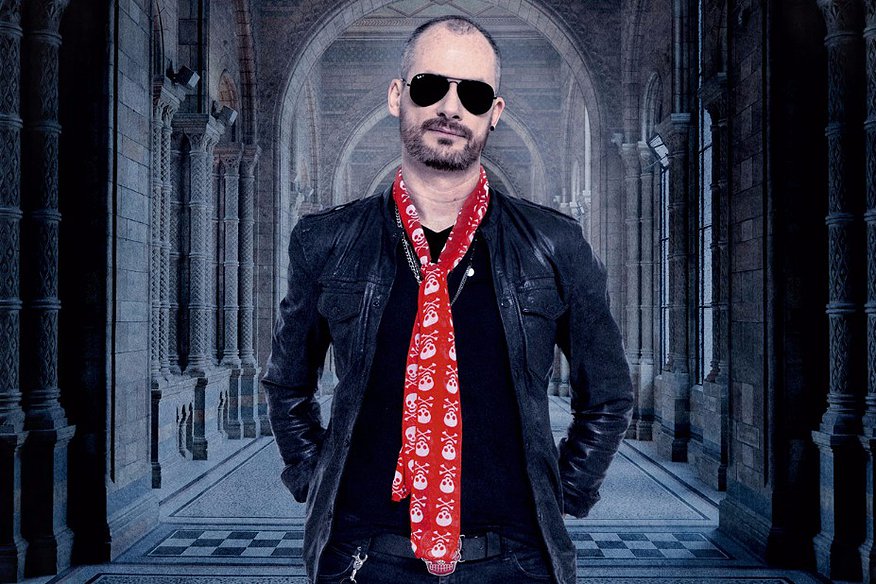 I have long held the belief that multi-national hard rockers Eden's Curse are a band out of time. If they had been around during the glory days of rock and metal in the 1980s they would have thrived without a shadow of a doubt. However, their time is here and now and given the musical landscape in which we find ourselves today they are doing extremely well for a band operating on a shoestring budget and with so much competition. The band recently released their fourth studio album titled "Cardinal" which gave me the perfect excuse to catch up with chief architect, song writer and bass player Paul Logue for a chat about the band, today's musical environment and the new album.
Rock Man: Since I last spoke to you back in late 2013 you've been pretty busy. You've released a live album Live With The Curse, made some line-up changes and just released a new studio album titled Cardinal, which we'll discuss shortly. So overall, you must be very happy with where the band is at the moment.
Paul Logue: Yeah, it certainly hasn't been an easy time to take on board the new line-up changes, but you know, life sometimes gets in the way of what you are trying to achieve. As the guy who has run the band I've always had to make tough decisions and people come to me and say "What happened with the last two keyboard players?", in particular Alessandro Del Vecchio. He has had a real career boost going on to work for Frontiers Records, pretty much 24 hours a day, 7 days a week. So he knew that his life would be just dominated by that. Thankfully these are the kind of people we get along with really well and he said "You guys deserve more than that and I want to follow this path in my life" and they kind of move on for different reasons. Steve Williams was kind of the same as well, he had a great couple of years in the group and he always wanted to go back and do a Power Quest reunion, and that was something that again, he came forward and said "Will you release me?, I don't think I can run both bands" and that was fair, I can appreciate that. But you've got to make tough decisions to move forward for the benefit of the ban. There were some tougher ones in the past when we replaced Michael (Eden) and I think we were vindicated by the choice we made with Nikola (Mijic). So all these tough decisions are just ones that you have to take and really it keeps the ultimate goal in the forefront of your mind and trying to be focused on what that is and trying to retain some of your identity. So yeah it has been a tough time but there has been some wonderful moments, some great shows, obviously the Symphony Of Sin album, we have the Live album out and now this new record Cardinal. So we've really had the last couple of years putting our heads down and working ever so hard to getting the band back on track and I think some of the work we have done recently is probably some of our best work. So it is a great feeling to be involved with the group.
RM: So as we've touched on the new album Cardinal is out. You're obviously thrilled at how well this record came out.
PL: Yeah I'll be brutally honest with you, it kicked my ass making it. After making an album and having it come out I'm usually anywhere from between three to six months looking and thinking of song ideas to come into my head (for the next album) and I have no intension of doing that for a while [laughs]. I'm looking after my body and my mind because it very much exhausted me; it was such a mammoth production because we threw everything into it. I think Thorsten Koehne (guitarist) would pretty much agree with me; him and I co-produced that record and we sat down together and said 'Symphony Of Sin is quite a big album to top, how the hell are we going to do that?' [laughs]. We always start with song ideas but it was a great challenge for us to have a chat and talk about what we liked and didn't like on the last one. We always like our records but we just wanted it to be a little heavier and I think things like the title track of Symphony Of Sin gave us a flavour of some progressive dabblings, none of us thought we'd experiment with working with an orchestra and doing a slightly longer track. We thought we'd do a few more of those and you can push those slightly longer in time, while trying to keep the audience and listeners interested. So we talked about those sorts of things and then we disappeared to our own corners of the world and put our heads down and started firing ideas and it was a huge production. I think it really shows the effort, some of the songs themselves were basically some of the hardest, most technical songs we've ever played. Some of the errors in the studio were not fun, but it was done on the basis of trying to get everything in synch because there are some parts in there where all four members of the band are playing syncopated runs and if one guy is not on the money the whole thing sounds terrible. But that just pushed everybody's boundaries and really made for a better album and when we heard it back we thought this is something special, something really great.
RM: It's well known that Eden's Curse is not meant to be a religious band. However, in the past you have played around with religious imagery and innuendo. Upon first listen of the new album it appears as though the band has pushed the boundaries of that a little more with some of the lyrical metaphors and song titles. Is that an accurate assessment?
PL: I don't know if there is more. I've never done anything deliberate in that department, other than from the outset we just always agreed that we were going to try to go down that root of trying to tie back into the band's meaning to use some of the imagery to really create, not just a musical landscape, but also a visual landscape as well. When I'm writing songs myself, I write firstly and foremost for myself and I feel very humbled and blessed that people pick up on the music and it inspirers people and they find enjoyment from it. So I always stick to that template that if I can please myself in that regard I'm going to be okay with the people who listen to it. That's what I try and do and I never take that for granted by any means because I know my boundaries and the context that I write Eden's Curse music and I pay homage to that every time I write. It's one of those things, we never wanted to write 'boy/girl' lyrics, we just wanted to write something a bit more thoughtful with a bit of a message there. I'm openly Christian and I think some of the guys are too but we're certainly not a bonea fide Christian band, that's not what we are here for, it's just thinking man's metal. A lot of the context of the lyrics are always real life scenarios that I'm going through or that might be a social commentary I'm making and they might just tie in with that spiritual context, metaphor and titles.
RM: So with that said, let's talk about some of the material on Cardinal and we'll start at the beginning. The opening track is Prophet Of Doom; can you tell me about the lyrical themes here? From a musical viewpoint I felt it had a very distinct Yngwie Malmsteen feel to it.
PL: Right, okay. Answering the second part first of all, I think when I'd written that the kind of vibe that I had thought of was Pretty Maids; that kind of chunky, heavy, very repetitive, wrap around, metal drums and beats. So that was the kind of vibe I was after but I hear what you mean with the Yngwie neo-classical melody lines but I think the whole thing came out quite power metal. It was one of those tracks where I was never sure if it was strong enough to be the opener but the more we got into the demo and the more we recorded it and having Thorsten being involved and making a few suggestions and tweaks in the guitar department it was excellent, and it really worked well. Thorsten has got a great ear for working with the melody but improving the guitar parts without ruining the melody, he's very good at that. The lyrics of that are kind of a UK phrase, people use a lot "Oh my God, the prophets of doom have spoken!". I thought that was a great idea for a song because so many people do tell you "You'll never do this" or "You'll never do that" and the whole song is about that. It's about people raining on your parade and all those dreams and ideas that you have and when you go on to do these things that you talk about and even if you have a little bit of success some people are still there in the background watching and hoping you fail. It was interesting to write and one I enjoyed writing.
RM: The lead single from the record is Sell Your Soul. Again you play around with religious innuendo with the line "Sell your soul to the devil". Obviously this is another metaphor and not meant to be taken literally. So can you expand on the themes of this song?
PL: Originally I was going to call it Better The Devil You Know. Again it was social commentary from my part of people chasing 15 minutes of fame or martial affairs and other things going on; there's just a lot of crap in today's society. Nowadays people are looking for a quick answer to this and a quick answer for fame and a quick answer for being super rich, and it was my thinking that the grass isn't always greener on the other side of life. Sometimes you're better with the devil you know in most cases, and so many people just sell their soul to be this fantasy of what they want and then find out that it isn't as good as what was there before it. Nothing overly religious on it just more in the context of using these phrases which are well known, another great song to write.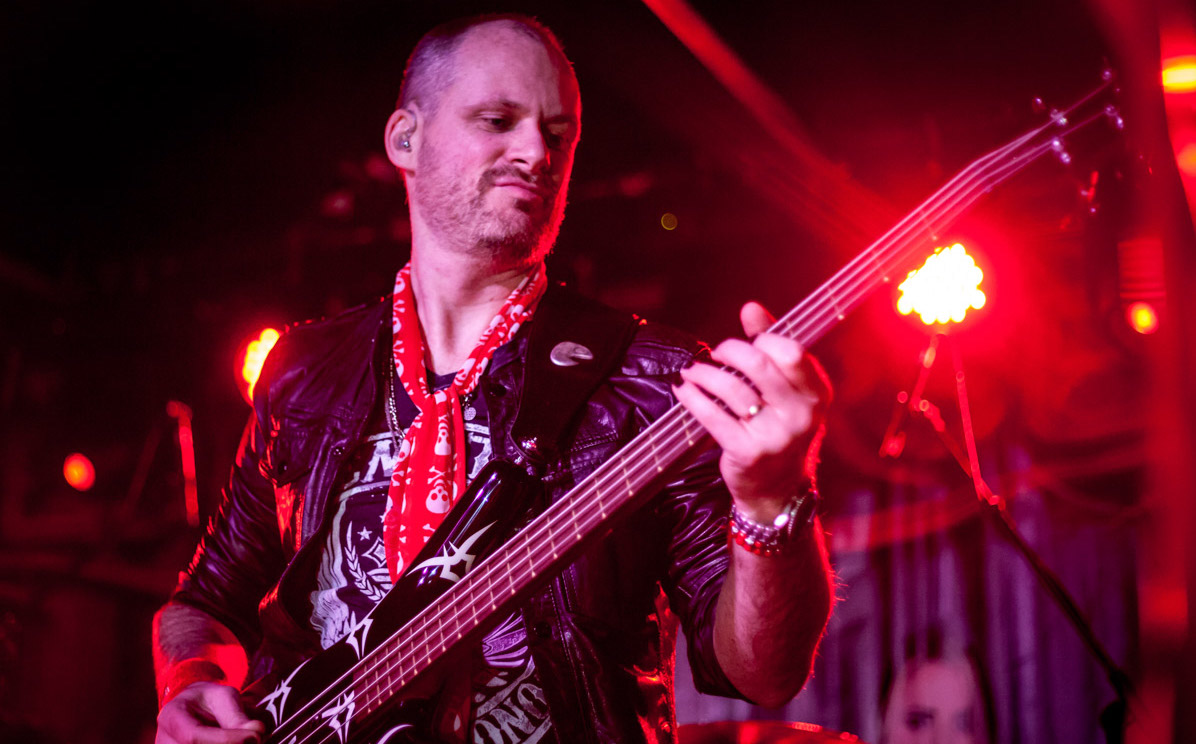 RM: You've partnered with Liv Kristine (Leaves Eyes) on the track Unconditional. Getting her to sing on this track is a stroke of genius; can you tell me how she became involved with the project and your thoughts on the final result?
PL: I had a meeting with AFM Records on a Friday afternoon at some point during the making of the album, we were just discussing how things were going. I happened to mention to them we had this song that was going really well and I sent the demo over and said "Hoping to take this to another level" and we talked about Liv being involved with it because Leaves Eyes were one of the biggest bands on the label. I just said to them "What kind of lady is she? Is she approachable?" and all the guys at AFM said she was a lovely lady, very sweet, very talented and one of the most approachable people you'll find in metal. So they agreed to go and make that approach for me and two days later on a Sunday one of my good friends is immigrating to Australia and we're having a little send off for him in a bar in Glasgow and the door to the bar opens and Liv Kristine walks in. Now this is in Glasgow and she's Norwegian but she lives in Germany and I'm looking going "That can't be her?… no way" and she walks over and sits at a table and I'm thinking it must be somebody that looks very much like her. A few minutes later a guy with a Leaves Eyes t-shirt walks in and he spots me and says "Hi Paul, how you doing?" and I'm looking at him thinking "I know you from somewhere", anyway long story short, he was the tour manager for Firewind when we toured with them back in 2009. So we started talking and I said "What are you doing here?" and he says "Leaves Eyes are playing in Glasgow tonight" and I actually had no idea and then the penny dropped that it was Liv Kristine sitting over at that table. So I told this guy the story about the meeting I had on the Friday and that the label was going to talk to her, so he made the introduction and I met Liv and we talked for about half an hour. So we talked about the song, at that point she hadn't heard it but we swapped email addresses and she said "Send it over, if I like it I'll kick its ass" and then I got an email from her saying "Heard the song, absolutely love it and I'd love to be involved". I think the end product is sublime, it is a song that is quite personal to me because I look at the loved ones in my life – my wife and my daughter – and that unconditional feeling that you have got for them. But in terms of the actual people in the song, it could be a couple, it could be a parent or a child, it could translate to anything… it could be a pet, you know, whatever. I just think the end product is wonderful.
RM: Did you have anyone specific in mind when you were writing The Great Pretender or were you just coming from a more general viewpoint?
PL: Yeah, I had someone in mind but I'll keep that to myself. We've all met those kind of people in life and my goodness, one of them just landed in the most powerful seat in the world. It's just one of those thing that you find in life, there is always somebody like that who you think "This is all a big act" and when push comes to shove there is nothing there to back it up. So occasionally I like to write a few things and get them off my chest [laughs].
RM: And the last track I wanted to explore with you is Jericho. This is just an epic way to finish off the record.
PL: Jericho is obviously biblical in terms of the concept and the story. I like that kind of vibe and it was something that we did on Jerusalem Sleeps and we wanted to kind of revisit it again. I think when you're talking about making an epic track the whole story just lends itself to the context of the song. On my part it involved a lot of research on the actual story itself, I went on holiday to Portugal and started writing that song lyrically, maybe two years before I even heard a piece of music. So that is not something I do normally; I usually do it the other way around but it allowed me to check out some of the mythology I was going to use, some of the main key points of the story and before I left I just printed off 20 pages of different context and what I could get my hands on. I wanted to get a different flavour of the synopsis of it, pick out the highlights really and build a story around that. You know, at some point I think I'd like to try a concept album but I have no idea in my head what that subject would be and maybe if it was something spiritual it might go down the wrong route. I would have to get the idea first of all but it definitely something I am toying with the idea of and see if we can come up with a subject, it has to be something strong.
RM: Nikola Mijic has been with the band for some time now and this is his second studio album with you; listening to the album I got a sense that he has really settled in now to his role as lead singer. Do you hear or feel a real sense of confidence or growth in his performance on this album?
PL: Yeah I do. Looking at both records, I produced the vocals both times and I think the main difference is intangible, some of those songs (Symphony Of Sin) were written before Nik joined. So this time around, with maybe the exception of one or two songs like Evil And Devine etc., but this time around every song was written for Nik. I had vocal range, style and delivery in mind and that, for me, certainly translate well, the guy can sing anything I give him. And as I say having produced the vocals myself I know the guy's ability very well, there was no part of any song that he struggled on and he has a great ear for melody and he knows his own voice better that any singer I've worked with.
RM: Thorsten Koehne and yourself are the only two surviving original members of the band. As the band keeps changing and evolving does your relationship with Thorsten grow stronger and is there a greater desire from the two of you to make Eden's Curse a success?
PL: Yeah, we have remained very focused and very close as band members too; there is no doubt in my mind that Thorsten has been my right hand man when it comes to some of the decisions. He has a very mature head on his shoulders and he has a great ability to look through all the bullshit that is around some scenarios and give a very honest and straight and always respectful answer, you know, we don't always agree with every idea for the group but we always run things past each other, we always have. The focus point of breaking through and making Eden's Curse a success was Thorsten's thought. So we remain very good friends and I think that is one thing if you take the music out of it, we have a great musical connection in terms of writing and playing together, but on a personal side we can actually spent quality time together and just laugh ourselves silly and have fun and that to me is the highest compliment I can pay Thorsten. He's the kind of guy I want to go hang out with, have a meal and a beer and just chill out with and he's good company as well, which makes it easier for me. He's always got pretty good ideas, not only from writing but from a business aspect as well.
RM: In recent times the music industry has been rocked by the sudden loss of iconic figures like Lemmy, David Bowie and others. Are you concerned as to where the next batch of "rock stars" are going to come from to fill the void because I doubt they will come from The X Factor UK?
PL: Yeah I think that is a valid point. I think the music industry is heading for a massive wake-up call. A massive shock, first and foremost because your Black Stone Cherrys, your Alter Bridges etc. are doing quite well but beyond that young bands and up and coming bands and the smaller bands, and we consider ourselves very much in that vein, are struggling. And struggling massively because there is very little money around here and we don't openly admit this, but every single member of Eden's Curse has a full time day job and we can't survive without it. There is no money; we get a great budget from AFM records but we are not making money on these records and we're barely breaking even on our live shows. So to have a career as a musician, and people speak to me all the time "Why can't you come to America?", "Why can't you come to Australia?" all these places that we have fans all around the world, it costs thousands of dollars to travel to either of those places. Yet people will happily pay $100 to go see a cover band or a band doing tribute stuff, but for original music it is almost impossible. We have worked very hard in the UK for ten years to build our own fan base here and a platform that allows us to play live here but it is one of the most expensive things that we can do. I bring guys from Germany and Serbia and some of them move here for ten days and none of them are going home with any money in their pocket. As a pay day we are covering what we paid for passports, food, hotels etc. No one is coming out with any profit, we're just breaking even so how can the younger bands and the up and coming bands survive? The fees that we get are well under a thousand pounds, yet you've got all these older acts pulling in huge amounts of money so at some point it's going to break and there will be very few big bands left and there is such a gap between the top and the bottom, it needs a complete re-think. I agree with you on the whole X Factor thing, that goes back to our song Sell Your Soul, you know, the 15 minutes of fame; I have a nine-year-old daughter who thinks that you just have to go to some centre and stand in a line, sing in front of Simon Cowell and you've made it.
RM: Yeah I hear what you're saying and share your concerns. Look we'll have to leave it there but on behalf of everyone here at Full Throttle Rock congratulations once again the release of the album Cardinal. I'd like to wish you and the band all the best for the album and the year ahead and we all look forward to many more great albums to come.
PL: Thank you very much Rock Man, we appreciate your support and all the guys down under who have bought all the records and listened to the band for years.
For more information visit the official website at: www.edenscurse.com
Eden's Curse – Cardinal is available on AFM records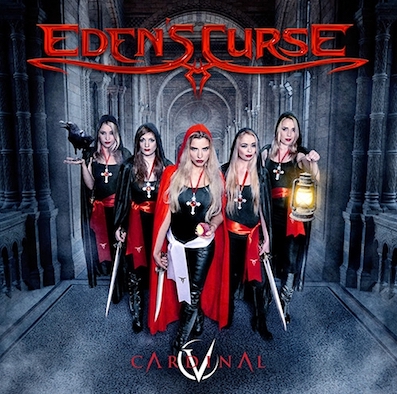 Categories: Interviews