| | |
| --- | --- |
| Posted on December 11, 2016 at 8:40 PM | |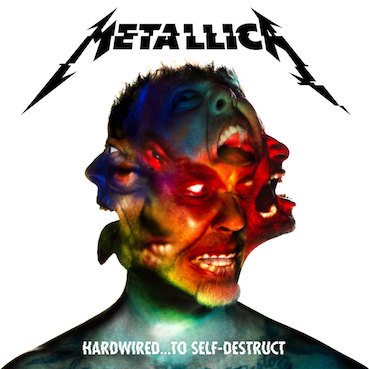 Metallica – Hardwired… To Self-Destruct
Written by The Rock Man
After a long eight-year absence Metallica are back and by God they are back with a vengeance! Their new album Hardwired… To Self-Destruct is one of the most anticipated albums, not only of the year, but for quite some time. And what becomes abundantly clear from moment one of pressing play is that it was worth every long, agonising minute of that eight-year wait.
Hardwired… To Self-Destruct is a brutal, aggressive, take no prisoners, unrelenting lesson in how metal should be done in this day and age. It flawlessly combines all the elements of what we love about '80s metal with the finer points of the genre today. In short, an album not for the faint of heart.
On numerous occasions the band have stated their desire to pick up where the last record Death Magnetic left off and personally I would have to say mission accomplished as Hardwired… To Self-Destruct quite easily could have been subtitled: Death Magnetic 2.0. One aspect of Hardwired… To Self-Destruct however, that sets it apart from Death Magnetic is in the production stakes. With all the respect in the world to legendary producer Rick Rubin, the last album was poorly produced and criticised by some fans and media alike.
But Hardwired… To Self-Destruct doesn't show any signs of the distorted/compressed technique which was unnecessarily prominent on the last effort. Produced by frontman James Hetfield, drummer Lars Ulrich and Greg Fidelman this new offering is definitely more sonically pleasing to the ear in terms of its production and mixing values.
The material featured on the album however is like being hit by a battering ram from start to finish. By now we've all heard the lead single and opening track Hardwired, which sets the pace and standard for the album very nicely indeed. From here it's one heavy rocker after another leaving the listener very little time to breathe as the record contains no ballads, there are of course a number of tempo changes within songs but that is about it.
While the album overall is very consistent in its quality from track to track, there are a couple of standout moments worth pointing out. Metallica have had a long history of exploring military subject matter and its destructive aftermath and Confusion is now another worthy edition. Lyrically the song focuses on PTSD and I walked away from this song with a real sense of thought for what military people must go through trying to adjust to normal life after service.
Spit Out The Bone is a fitting frenetic bookend to the title and opening track. Lyrically the band explores the addictive obsession mankind has developed with technology, but cleverly they do it from the technologies point of view. Also of note are the tracks Now That We're Dead with its groove laden drum rhythm and '80s style chugging guitar bed and Here Comes Revenge which tackles one of the oldest motivators of mankind, sweet revenge.
At the end of the standard two disc, 12 track, one hour and eighteen-minute running version you're still craving more 'Tallica' action, then fans can sink their teeth into the Deluxe Edition which comes with a third disc jam packed with extra goodies. Included on this bonus disc is ten blistering live performances, Ronnie Rising Medley (a tribute to Ronnie James Dio), a cover of Iron Maiden's Remember Tomorrow, Deep Purple's When A Blind Man Cries and the scorching track Lords Of Summer which Metallica have played in their set over the past couple of years, available for the first time as a studio version.
If it's value for money you're looking for then you can't go past Hardwired… To Self-Destruct. With material this strong it's hard to imagine the band is going to slow down and retire any time soon; which is great because the rock world needs bands like Metallica to continue doing its thing for as long as it can. Lord knows there isn't any new talent coming through worth paying to hear, so let's just hope it isn't another eight years between records from these legendary San Francisco metallers.
Categories: Album Reviews