| | |
| --- | --- |
| Posted on December 11, 2016 at 8:30 PM | |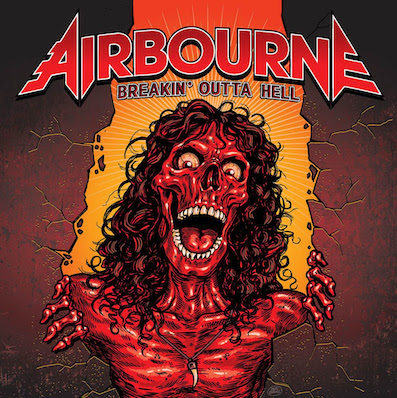 Airbourne – Breakin' Outta Hell
Written by Dave Smiles
I don't think Airbourne sound anything like AC/DC. For some unknown reason they've been hit by that stigma. Perhaps it's due to the international acclaim the band has achieved, and in order to market a new band from Australia there's the preconceived notion that all bands from Australia sound like AC/ DC. The truth couldn't be further from that assumption.
If you've been a fan of Airbourne since the release of their debut album Running Wild almost ten years ago you'll be able to appreciate the growth this band has gone through over the years as song writers and performers. So if you like your rock n roll loud, pure and filled with plenty of lyrics about drinking, partying and sex, then Airbourne is just what's needed to get you going. With song titles like It's Never Too Loud, Get Back Up, Down on You, and It's All For Rock N Roll, you can get a good indication of what to expect.
What has always remained true to the band is the spirit of solid Aussie pub rock. This isn't about flashy guitar solos or over produced modern rock sounds. This is face melting riffs and solos, tight rhythm sections and lyrics with accessible hooks best consumed with a cold beer and some mates at the local pub. – Of course, these songs would transcend perfectly to stadium audiences, but the local industry seems unwilling or unable to support new talent and help to develop to the same level that bands achieved in times past. Why this band can play to thousands of people in festival overseas, but are left performing to maybe a hundred people in pub gigs back home in Australia is beyond my understanding.
The sad thing is, in the next five to ten years we're facing a serious lack of good rock n roll bands as more and more of the classic rock bands are forced to call it a day. Rock N Roll can live forever, if people are willing to allow its eternal torch to be passed to the next generation.

Categories: Album Reviews