| | |
| --- | --- |
| Posted on December 11, 2016 at 8:20 PM | |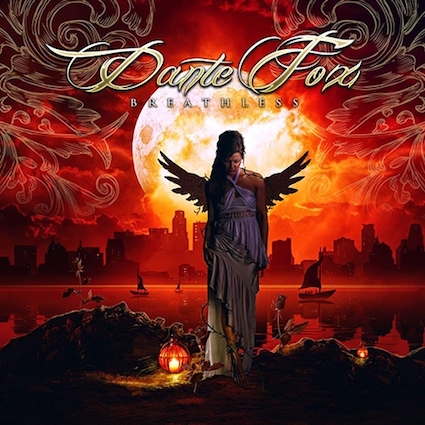 Dante Fox – Breathless
Written by Juliano Mallon
In the mid-1990s, when AOR was more undeground than ever, Dante Fox's name emerged as one of the most promising, thanks to their catchy songs as well as the striking vocals of Sue Willets Manford. Time has passed and the band has established itself as one of the most respected in the AOR / Melodic Rock scene, having four great albums under their belt.
Now, the band resume their activities with "Breathless", a work that brings Dante Fox in an upward curve with one of the best sets of songs of their career.
One of Dante Fox's trademarks is the exhilarating rockers and this is found in awesome tracks such as the excellent "Young Hearts", "All Eyes On You", "Break These Chains" and "Dynamite (Your Love Is Like)", all easily ranked as album highlights, being perfect examples of the best contemporary AOR / Melodic Rock, with engaging melodies, well-constructed arrangements and chilling performances of Ms. Willets Manford.
And equally noteworthy are "Breathless," "Broken Hearted Man," "I Can Not Stop Tonight," and "How Will You Know (Where To Find Me) , All exhilarating rockers that deserve your total and unrestricted attention.
Still, the ballads "A Love Affair" comes as a beautiful surprise, as well as the excellent "Creeps Into My Mind", brought acoustically, as the second version of "Broken Hearted Man", and the result is simply spectacular and worthy of multiple auditions.
In summary, my friends, I categorically affirm that "Breathless" is one of Dante Fox's best albums. As I mentioned before, the set of songs has a lot of quality and the interpretations of Ms Willets Manford are absolutely flawless, as well as the precise backing vocals of the great Lee Small and the precise guitars of Mr. Manford. Also worth mentioning is the presence of Eric Ragno, whose keyboards fit perfectly into the band's private universe.
Therefore, I recommend hearings not only of "Breathless", but also of Dante Fox's previous four albums (released between 1996 and 2012) so that you can more accurately assess the ascent to which I referred at the beginning of this review. The return of Dante Fox is one of the best surprises of 2016 and "Breathless" lives up to the good name the band has built. "Breathless" is highly recommended and is out now on AOR Heaven.

Categories: Album Reviews