| | |
| --- | --- |
| Posted on December 11, 2016 at 8:10 PM | |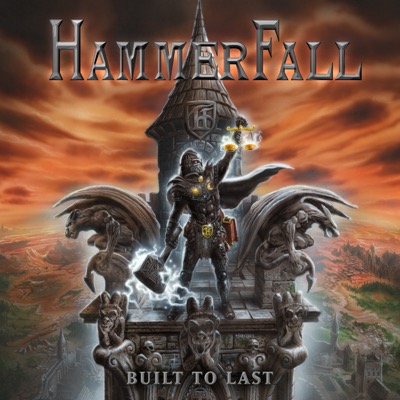 HammerFall – Built To Last
Written by The Rock Man
For close to two decades Sweden's HammerFall have administered their brand of medieval themed fantasy heavy metal to the masses; and that impart continues with the release of the band's new album Built To Last.
I don't know whether Built To Last is just a clever title or the band making a statement but I can't think of a better way to describe the resolve of this band over time. When you consider that when the band formed in the mid-1990s metal music was struggling to survive and the world was caught up in Grunge fever. The demand for this type of '80s Judas Priest/Accept inspired music was pretty low. So to forge a career with this style of metal and be successful with it over a twenty year recording career, while their peers are going off in a different direction, is quite honestly extraordinary and courageous.
From day one guitarist and band founder Oscar Dronjak has had a clear vision of what he wanted HammerFall to be and the legacy of that vision continues to grow with Built To Last. This is an album for the true believers, those who have metal running in their veins, those who appreciate that metal is more than a form of artistic expression but a lifestyle, those that live it day to day.
The album kicks off in blinding fashion with Bring It! and honestly this track alone tells you everything you need to know about this record. The guitar work from Dronjack and Pontus Norgren is flamboyant, flawless and exhilarating but all the while maintaining a nice balance of melodic punch, while the solos are scorching to say the least. Bassist Fredrik Larsson hits the pocket every time with his bass runs while drummer David Wallin lays down some solid double bass thunder and reliable snare aggression and swagger. Which leaves vocalist Joacim Cans, arguable one of the best in the industry today. The melodies and harmonies are dynamic, beautiful and soaring all at the same time and delivered with power.
But if you still require additional evidence look to tracks such as Hammer High, Stormbreaker, The Star Of Home and Dethrone And Defy as further confirmation. But of all the noteworthy tracks on Built To Last the standout moment for me was New Breed. In 2016 you don't get anymore '80s metal in style and attitude than this song; this juggernaut captures the spirit of metal perfectly with its driving, snappy guitar hook to die for and who could resist lyrics like "New Breed/old breed/we are all the same breed/heavy metal running through our veins"… classic isn't it? Of course it's not all full steam ahead, the band takes the opportunity to show a gentler side with the tracks Twilight Princess and Second To None which execute a stirring balance of power and grace.
Built To Last, like many of the band's works, is a prime example of how metal should be done today. The fact that so many bands of their generation choose to ignore this is a little disturbing to me but that argument is for another day. For here and now however I am just grateful that there is still one band out there prepared to stay the course for traditional heavy metal of old.
Categories: Album Reviews