| | |
| --- | --- |
| Posted on November 6, 2016 at 8:40 PM | |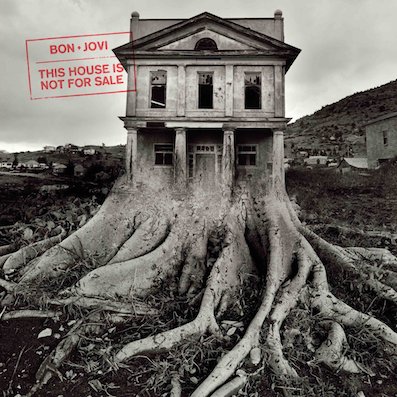 Bon Jovi – This House Is Not For Sale
Written by The Rock Man
For those rock fans feeling a little unsatisfied with the past couple of Bon Jovi releases, the pleasing news is their new studio album This House Is Not For Sale is guaranteed to make those previous efforts a distant memory. By his own admission, frontman and chief architect Jon Bon Jovi has stated that the past year or so has been difficult for himself and the band; but on THINFS what we find here is a band re-energised and firing on all cylinders.
So before we go any further let's address the elephant in the room: The departure of Richie Sambora. While I still have trouble coming to terms with the fact that I now live in a world where Sambora is no longer the right hand man to JBJ, the simple fact is he's not in the band anymore. End of story. The burning question then becomes: Can Bon Jovi successfully exist without Sambora? Strangely, after just one listen to THINFS the answer might not only be yes, but "Hell Yeah!"
Bon Jovi have always been and will continue to be a "heavy guitar driven" rock outfit and a major part of that now falls on Phil X (Xenidis), and it doesn't take too long into the album before you get the feeling he is more that capable of getting the job done. The solos throughout are scorching while the leads and rhythms are dynamic and bold and I can't help but feel his inclusion has added a freshness and needed shot of enthusiasm to the entire band.
So what of the material? THINFS is jam packed with killer rockers, but there are a couple of standouts that can't go without a mention. First up is Born Again Tomorrow; this number has everything you could want in a song: all of those guitar qualities I just mentioned, a driving rhythm section which refuses to let you go and loads of melody and punch in the vocal department. If this isn't a future single, I'll be shocked. Next is Knockout which is already a single. Simply put, this song knocks it out of the ball park. And God Bless This Mess is one of those positive uplifting rockers they do so well.
On the band's previous release Burning Bridges, JBJ spelt out in no uncertain terms his thoughts on the record industry and the band's former label on the title track. On the title song for THINFS Bon Jovi takes this theme a step further boldly declaring that their integrity, creativity, and brand is no longer in a position to be exploited by greedy record powerbrokers. It is clear this is still a burning issue for the band as The Devil's In The Temple, also takes another swipe at the industry and their former label. Now, Living With The Ghost is a song about lost love, but depending on how far you're willing to read into things there could also be a few lines here with double meanings pointing Sambora's way. But that is for individual listeners to decide.
You can't say "power ballad" and not think Bon Jovi. On THINFS the band serves up Labour Of Lov which screams of Springsteen-esque undertones. Also checkout Scares On My Guitar, this cut explores the most important asset any singer/songwriter has and that is the relationship between himself and his guitar. By now we're all aware that JBJ is the world's eternal optimist and his belief in hope and prosperity shines through on New Year's Day, which, reading between the lines, is a metaphor for new beginnings and fresh starts. Something the band clearly feels it has at this point of their career.
For 30 odd years I have followed this band and it has been a few years since I was this excited about a new record. Initially I came away from listening to THINFS comparing it to The Circle, with maybe a sprinkling of Have A Nice Day, which are clearly in my mind two of their better efforts in the past decade or so. This in short is simply a stunning effort and one of the "must have" albums of 2016.
Categories: Album Reviews