| | |
| --- | --- |
| Posted on November 6, 2016 at 8:25 PM | |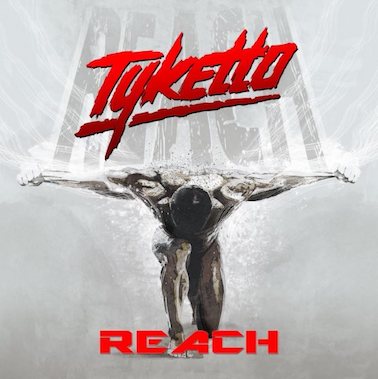 Tyketto – Reach
Written by The Rock Man
Around 1989-1992 there was a batch of exciting up and coming hard rock and metal bands that got their big break in the mainstream arena. The future looked bright for this crop of new talent but virtually overnight those futures were wiped out by the rise and rise of the grunge movement. Unfortunately for many of these bands it was simply the wrong time to be forging a career in the rock world. One of those bands that was caught in the wrong place at the wrong time was New York natives Tyketto.
Their 1991 debut album Don't Come Easy was a standout moment of that year and signalled what was supposed to be the beginning of a new age for hard rock and metal; but in the blink of an eye they were left standing by the side of the road with no future as the musical landscape quickly changed around them. Fast forward to 2012 and the band, which had reformed and played a handful of reunion shows since 2004, had released an album of new original material under the title Dig In Deep. This would be a serviceable album that would introduce the band to a whole new generation of rock fan and serve as a platform for the follow up album Reach which the band has just delivered.
Original members Danny Vaughn (vocals), Michael Clayton (drums) and Jimi Kennedy (bass) are joined by newcomers Chris Green (lead guitar) and Ged Rylands (keyboards) and instantly you get a feeling that there is some real chemistry going on within the band.
The lead single and album opener is the title song. The track is a high energy rocker that is packed full of lyrical emotion and is a great feel good moment. It's kind of hard to resist smiling and tapping along, or maybe this was just me. From here the pace is set with rockers like I Need It Now, Sparks Will Fly and Big Money but of all of tracks there are a couple of standouts. The first of them is The Fastest Man Alive, which features a very nice meaty guitar riff that tears your head off. This is an awesome cut that is marinating in a strong '80s flavour. The same case could be mounted for the following track, Remember My Name. This too features a gritty, raw guitar riff and the addition of harmonica gives the song a strong blues undertone. This was a trend that was very popular amongst hard rock bands back in the '80s and it's great Tyketto are keeping that tradition alive.
Other rockers on here of note include Tearing Down The Sky. Lyrically the song focuses on strength of will and character, while musically it features all the hallmarks that make the Don't Come Easy album great and wouldn't be out of place on that record. Also be sure to check out Kick Like A Mule, Clayton's drumming is the standout feature. Of course it's not all balls-to-the-wall; the band takes time out to slow down the pace with some impressive ballads. All up the record features three, and they are all a consistent quality that you would expect from Tyketto. But the one that stood out to me was Letting Go. Here you'll find acoustic and electric guitars intertwined. While the electric guitars push the song along, it's the overlapping acoustic guitars that prove the emotional tenderness required. This coupled with Vaughn's vocals make for a special moment. If I was putting together a hard rock band today, I would want Vaughn's ability at the helm.
Back in the day Tyketto sat comfortably amongst my Bon Jovi and Whitesnake collection. It's great to know that in 2016 they still do. Reach is one seriously fun hard rock record.
Categories: Album Reviews