| | |
| --- | --- |
| Posted on November 6, 2016 at 8:20 PM | |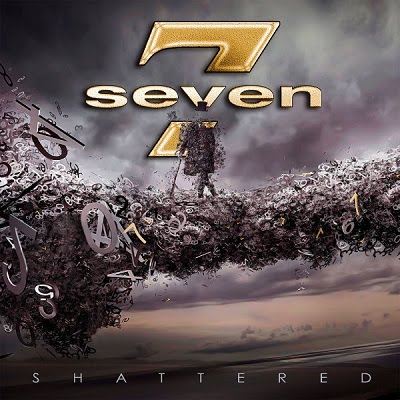 Seven – Shattered
Written by Juliano Mallon
Two years after the release of "7", Seven returns with "Shattered", their new album that brings a number of changes since their previous work. The first one is that Mick Devine is the only active member of the original lineup. The other is that the new album features compositions signed by Jeff Paris, Fredrik Bergh and Keith McFarlane, the original guitarist of the band. Musically, "Shattered" follows the very same line as "7", but it's in no way a mere copy. Actually, the new album has its own identity and quality to spare.
With keyboards and guitars galore, the rockers "Light Of 1000 Eyes", "A Better Life" and "Fight" open the album showing the melodic line that defines "Shattered", where all elements are presented in a harmonious way. Therefore, I recommend maximum volume and multiple hearings of each of the aforesaid tracks.
The excellent mid-pacer "Shattered" has an explosive and striking chorus, which makes this song one of the album's highlights, as well as the rocker "Pieces Of You" and "Broken Dream", another awesome mid-pacer that shines through as another highlight of this album. For each of these songs, maximum volume and no moderation when listentening are required.
The rocker "High Hopes" has an undeniable 80's aura and a killer chorus, which turns it into one of the album's highlights, just like the mid-pacer "I Needed Time" with its delicate textures and captivating chorus. In the same vein, but with a heavier approach, the mid-pacer "Last Illusion" has powerful bass lines and drums, while the spectacular rocker "World Of Make Believe" (another highlight) closes the album in a flawless way, bringing together all the elements that make this album in the same as the song.
In short, my dear friends, "Shattered" shows Seven is here to stay and, more importantly, to be recognized as one of the greats of contemporary AOR. With very cool melodies that do not sound like everything else out there, Seven is destined to become now the great band they were set to be back in the late 80's. It brings me great joy to see a band like Seven, in 2016, practicing contemporary AOR and at the same time, surrounded by 80's influences, but without sounding dated. There is absolutely no doubt that "Shattered" is not just a more than recommended album, but also one of the best and most consistent releases of the year.
"Shattered" is out now, on Escape Records.

Categories: Album Reviews