| | |
| --- | --- |
| Posted on October 20, 2016 at 9:25 PM | |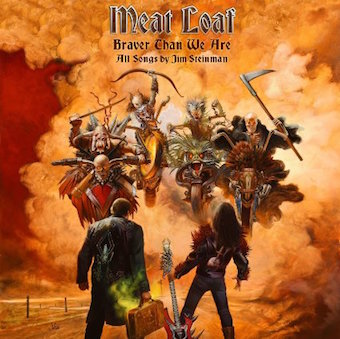 Meat Loaf – Braver Than We Are (Songs by Jim Steinman)
Written by The Rock Man
Epic. Massive. Grandiose. A major theatrical event. These are some of the ways to describe the collaborations between Meat Loaf and Jim Steinman. It began almost four decades ago with the very ambitious release Bat Out Of Hell and it is still debateable whether the world was ready for what was about to be unleashed upon it at that time. Bat Out Of Hell was unlike anything ever heard back in the late '70s and many struggled to wrap their minds around it; some still do to this day. But Meat Loaf and Steinman had a vision, and would stay true to that vision regardless of industry acceptance until they parted ways during the early 1980s. Of course history will show that the pair would mend their differences in 1990 and have massive success once again with the sequel album Bat Out Of Hell II: Back Into Hell in 1993.
There is something extraordinary that takes place every single time Steinman's musical visions are brought to life by Meat Loaf. The partnership's new project, Braver Than We Are, is no different. If you have followed Meat Loaf's career over the years then you will know what to expect here; it's a familiar story. The vocal performances are dynamic and breathtaking (no pun intended) and the musical backdrop is colossal and flamboyant. Braver Than We Are is not the type of disposable noise you have on in the background at a party, but rather the kind of album you put on in maybe, a darkened candle lit room with state-of-the-art sound equipment while relaxing in your favourite recliner. In short: an album for connoisseurs of musical craftsmanship.
Braver Than We Are isn't just big sonically, it's also big in terms of length. The record features 10 tracks but runs close to an hour with several songs running over the six-minute mark and then there is the massive near 12-minute lead single Going All The Way Is Just The Start. Naturally a shorter four-and-a-half-minute version has been cut and sent out to radio stations for airplay but this version does no justice at all to the album cut. One of the main features of the song is the vocal performance of Ellen Foley, who originally sang the female vocal part on Paradise By The Dashboard Light, back in '77. Karla DeVito, who also appeared in the video for the aforementioned track also provides vocals on Going All The Way. The track, a lot like the entire album really, ebbs and flows its way through a myriad of musical styles and textures and is everything you would expect from a Jim Steinman penned song.
Given that this is a Steinman creation with some songs written pre-Bat Out Of Hell, one of the neat little surprises that arise from time to time is his using of lyrics from other songs he has had success with over the journey. For example, look out for the line "You've been cold to me so long/I'm crying icicles instead of tears" from Two Out Of Three Ain't Bad which appears on the piano/saxophone driven mid-tempo ballad Souvenirs. This track was originally earmarked for the Bat Out Of Hell album but finally sees the light of day here. Then there's some of Steinman's most famous lyrics, "Turn around bright eyes!" from the Bonnie Tyler hit Total Eclipse Of The Heat. Steinman first used these words on Skull Of Your Country, another strong moment on this record, he would later use these lyrics as the basis to create the Bonnie Tyler classic. While the album is pretty loaded with powerful piano driven ballads and mid-tempo slow burners, there is also a place and time to rock and that's what you get in spades on tracks such as More, Godz and Train Of Love, another early '70s Steinman gem. But don't go making the mistake that this record is Bat or Bat II, because Braver Than We Are is its own entity.
It is difficult to know when many of these aging rockers are going to "call it a day", and there is constant raging debate over whether these veterans should continue to release new music. I for one want to see them all carry on for as long as possible because I haven't heard anything from the next generation of rock star that makes me stand up and take notice like the old timers do. Braver Than We Are is yet further validation that they just don't make ém like they did back in the good old days.
Categories: Album Reviews