| | |
| --- | --- |
| Posted on October 20, 2016 at 9:20 PM | |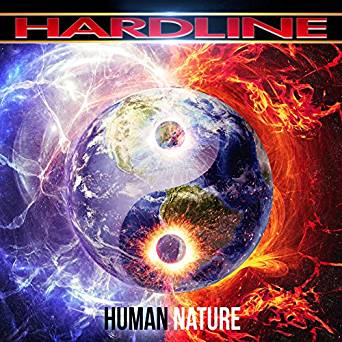 Hardline – Human Nature
Written by Juliano Mallon
Everyone knows about Hardline's rise in 1992 from the ashes of Brunette with their classic debut "Double Eclipse" and continuation to be active to this day, alternating good albums with more interesting ones and it's on the latter category that their new venture "Human Nature" fits. Featuring a heavier sound on some tracks and a more melody-focused bunch on many others, the album shows a more well-oiled Hardline with singer Johnny Gioeli in top form, performing flawlessly the latest material from the band. In fact, there is a great improvement here if we compare "Human Nature" with the most recent works of Hardline.
In the second part of an interview I conducted with Gioeli, he said: "We all wanted a heavier album and I believe we have achieved this goal." Some of the first songs on the album represent this comment perfectly and if you're looking for an extra weight you'll surely like "Where Will We Go From Here", "Nobody's Fool" and the frenetic "Running On Empty" (one of the highlights of album), since they all display a more visceral and dynamic sound, but without giving up the melodic factor. I reco
mmend careful auditions of each of them, even if you are not adept of heavier sound. Believe me, you can - and probably will - be surprised. Further on, "The World Is Falling Down", "Where The North Wind Blows" and "In The Dead Of The Night" (both highlights of the album) keep the flow of great songs going, engaging melodies and powerful riffs, played perfectly by Mr . Gioeli. Multiple hearings and maximum volume are recommended.
The excellent mid-pacer "United We Stand" stands out as another highlight in the final stretch of the album (with a killer chorus), which also includes the explosive "Fighting The Battle" (another highlight) besides the power ballad "Human Nature "and the introspective "Trapped In Muddy Waters", all worthy of your full attention and multiple auditions.
Summing up, "Human Nature" marks Hardline's return to the melodic rock scenario. Johnny Gioeli continues in full form and it is clear throughout the album, which also features the excellent axeman Josh Ramos, showing technique and class like very few others. The songs are excellent and build a very cohesive album, maintaining a melodically sharp line from which the band almost never departs. Also, the tight production is a decisive factor for assessing the quality of the album. Therefore, I say without a doubt that "Human Nature" emerges as one of the good surprises of the year, being a great album worthy of carrying Hardline's name.

Categories: Album Reviews