| | |
| --- | --- |
| Posted on August 30, 2016 at 10:20 PM | |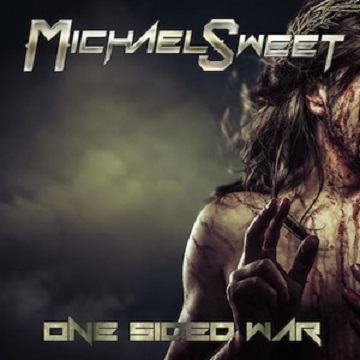 Michael Sweet – One Sided War
Written by The Rock Man
Since releasing his debut self-titled solo record in 1994, Stryper frontman Michael Sweet has been able to redefine the creative boundaries that he would work within, giving himself greater scope to that of the Stryper model. His new solo venture, One Sided War is further confirmation of his creative expansion and development, and showcases all the hallmarks of a classic hard rock framework; but with a far grittier, almost metal at times attitude, not heard before.
One Sided War is packed from start to finish with some heavy artillery. You get a real sense of what I'm talking about from the opening track Bizarre. This is a powerball of excitement with its ferocious guitar hooks, its aggressive rhythm section and Sweet's skyrocketing vocal dynamics. Other tracks that follow this 'take no prisoners' approach include Golden Age and Comfort Zone. Another high point of the album is the number of tracks featured that exhibit a solid dose of good old fashioned hard rock swagger. For examples of this look no further than Only You, You Make Me Wanna, One Sided War and the very catchy One Way Up.
Lyrically, I love the tongue-in-cheek, sarcasm of Radio. In more recent times there have been countless rock performers who have, for one reason or another, felt compelled to try their hand at a Country/Nashville inspired sound. This is one of those things that I just can't wrap my head around and it grates at me when artists go down this path and this is the focus of the song: move to Nashville, record a country song and watch it go to number one on the charts. Religious inspiration has been Sweet's stock in trade for over three decades now and on One Sided War there are a collection of tracks which fill that quota very nicely, I Am and Golden Age are among the standouts.
A common denominator with Michael Sweet's music, whether it be with Stryper, a solo album or any other project, is the quality of musicians which he surrounds himself with. They are always of the highest calibre and on One Sided War this trend continues with guitarists Joe Hoekstra (Whitesnake/Night Ranger) and Ethan Brosh (solo/Angels of Babylon) bringing their energy and charisma to the overall feel of the material in addition to the solid rhythms of bassist John O'Boyle. Of course Sweet himself is the main driver of the bus, but their input and assistance cannot be downplayed or overlooked. And then there is drummer Will Hunt (BLS/Evanescence) who crunches those skins and adds a real sense of heaviness and weight to the recordings.
One Sided War is a very classy and polished effort, just like all of Sweet's material before it. If you have heard the odd record or two over the past 33 years then you'll have a fair idea what to expect with this new solo project. If however you've been living under a rock all this time and have just come up for air, then now is a great time to jump on board the Michael Sweet train; hold on tight because it's full steam ahead on this exhilarating ride that is guaranteed to leave you breathless.
Categories: Album Reviews