| | |
| --- | --- |
| Posted on August 30, 2016 at 10:00 PM | |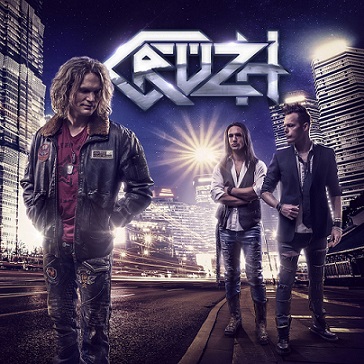 Cruzh – Cruzh
Written by Juliano Mallon
Sweden's Cruzh emerged in 2103 with the EPs "In The Blink Of An Eye" and "Hard To Get". With an absolutely '80s sound and a strong emphasis on backing vocals, the band immediately caught the attention of AOR connoisseurs and the antecipation for an album began to grow stronger by the day.
Push the clock forward to 2015 and as they prepared to release another EP, Cruzh was offered a contract by Frontiers Records. Finally, the long awaited album would become a reality. And in late August Cruzh's debut album will hit stores in confirming what was previously shown in the EP's: powerful songs with catchy arrangements, killer choruses filled with backing vocals, awesome songs and a great singer.
The album is full of radio friendly AOR rockers; the kind that echo in your head for days, as we can easily infer from such explosive songs as the contagious "In 'N' Out Of Love", "First Cruzh", "Aim For The Head" and "Survive". All these songs have similar melodic structures and, therefore, if you enjoy one, you'll certainly enjoy the others. And I don't say this in a derrogative way; I'm just poiting out a common feature of the songs. Still, it is worth remembering that all of them have absolutely explosive choruses and backing vocals, which makes me point them out as highlights of the album.
But there's more. I must mention the great "Hard To Get", "You", "Set Me Free" and the frantic and excellent "Before I Walk Alone". Check these songs at maximum volume and no moderation.
The album also features more introspective moments with ballads "Anything For You" and "Straight From My Heart", plus the awesome mid-pacer "Stay", the last two songs being easily considered highlights of the album.
In short, my dear friends, Cruzh's self titled debut seems to aim at a very defined audience and that audience is the people who, like me, shamelessly enjoys the 80s sound. I have no doubt that "Cruzh" must meet the criteria of this public, but I have my doubts about this regarding other groups. The production is flawless, even sounding exaggerated at times (and I mean it in the best possible way), but I think it better the excess than the shortage. Still, the band clearly delivers what they intended and this is a sure cause for celebration.
In a recent Melodicast broadcast, I said that this album has "the most pop aspects of Find Me and Def Leppard circa 'Adrenalize'" and it confirms that statement. This album won't change anyone's life (but has any album ever done this?), but if you hear it without taking it too seriously, I'm damn sure "Cruzh" will come as a great surprise, though I have the impression you've heard that somewhere else before.
"Cruzh" is in stores now, via Frontiers Records.
Categories: Album Reviews