| | |
| --- | --- |
| Posted on August 30, 2016 at 9:55 PM | |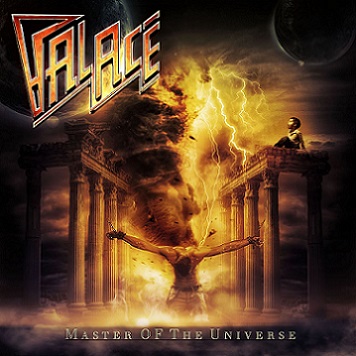 Palace – Master Of The Universe
Written by The Rock Man
I've noticed a growing trend with young bands coming out of Europe for some time now; particularly in Sweden. There appears to be a strong emphasis on that old 1980's American style rock sound. At times these bands are sounding more American than the Americans from that era themselves. The newest emerging young Swedish talent to add their names to this growing list operate under the banner of Palace.
The band take their name from founder/guitarist and lead singer Michael Palace and together with fellow guitarist Rick Digorio, bassist Soufian Ma Aoui and drummer Marcus Johansson have just completed and released their debut album titled Master Of The Universe. Palace can best be described in the same vein as bands such as Khymera, H.E.A.T., Treat and Hardline but with a hint of mid-80s Toto.
What is glaringly obvious about Master Of The Universe is that this record has a very strong keyboard driven arena hard rock flavour about it. If you are of the opinion that keyboards have no place in hard rock or metal then you may want to sit this one out. However, if like me, you don't think "keyboards" is a dirty word and you think the sound adds a degree of emotional depth to your hard rock/metal music, then this will be up your alley for sure.
So, getting this 11 track/47 minute collection of material under way is the title track. This song is really typical of the entire album; as I mentioned before, lots of keyboards but they are always balanced out by the melodic guitars which evolve into scorching solos. The drums and bass are solid and maintain an unwavering groove and the vocals are crisp, clean, full of harmony and all class. When an album is this consistently good it can be difficult to pin point one highlight from another, but having said that I really enjoyed Man Behind The Gun, Rules Of The Game, Part Of Me and Master Of The Universe.
There is little doubt that Palace are a talented bunch, this first off effort proves that and after hearing Master Of The Universe one can't help but think that the sky is the limit for these Swedish melodic hard rockers. But this won't just happen for them, they need the support of the music buying public and the support of their label. I certainly hope all parties get on board and help contribute to the potential future they deserve.
Categories: Album Reviews