| | |
| --- | --- |
| Posted on July 15, 2016 at 1:30 AM | |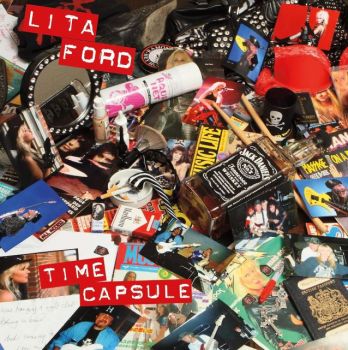 Lita Ford – Time Capsule
Written by The Rock Man
.
The glorious, decadent and outrageous 1980s was a decade where the hard rock/metal scene truly thrived. Hair was teased with excess hair product, eyeliner and make-up was laid on thick and spandex was so tight it was cutting off blood circulation… and this was just the guys. Back then one would have to look closely at the band photos on album jackets to try and figure out if you were looking at guys or chicks; does Poison's Look What The Cat Dragged In cover bring back any memories? And I still think the jury is out on what the hell was going on with that whole Boy George pop music thing, but I digress.
The strangest thing about those times was that even though almost every male band around was going out of its way to look like girls, the sad reality was there wasn't actually many female bands or female artists making an impact on the scene. One could argue that it was a very male dominated and sexiest industry at the time, but that didn't seem to deter trailblazer Lita Ford from forging a career that would span four decades.
After making her mark as a guitarist in the '70s with all female pioneers The Runaways, Ford would flourish in the '80s releasing some of the decade's most impressive hard rock records. But as we all know track selection can be difficult when recording an album and sometimes material just doesn't make it to the final cut of 10/12 songs on an album. Usually many rough around the edge gems will be stored away in the vault of time never to be seen or heard again. Fortunately for fans of Ford (for whatever reason) she was recently feeling a touch nostalgic and dug up these nuggets of brilliance and compiled them on a new album appropriately called Time Capsule.
This album is one serious throw back in time. The sound is pure '80s; there is no Pro-Tools or digital meddling here. If there have been any enhancements, they are very subtle. The number of guest musicians and performers is also quite impressive too. The story goes that while she was in the studio recording whichever album she was working on at the time, other well know artist would be down the hall in the same studio recording whatever project they had in the works. From time to time Ford would see whomever and invite them to be part of a recording session; from this we get Jeff Scott Soto lending his voice on the powerful opening track Where Will I Find My Heart Tonight for example.
Dave Navarro of Jane's Addiction fame provides mandolin on Killing Kind, while KISS duo Bruce Kulick and Gene Simmons lend their support on Rotten To The Core which is the highlight of this collection. Not just because Simmons is involved, but because this is simply an awesome song and it is hard to figure out the reasoning why this track was not included on one of her studio records. Little Wing and On The Fast Track are two instrumentals of the highest quality; rightly or wrongly I am going to assume these tracks were the blueprint for something much grander and that lyrics were never written, which is a shame as they could have been something spectacular in the end. Other guests include Cheap Trick pair Robin Zander and Rick Neilsen in addition to Chris Holmes of W.A.S.P. and legendary bassist Billy Sheehan.
There is a reason why artists of Ford's craftsmanship, character and vintage endure the test of time. It all boils down to the fact that, like her peers, she is a student of simple, melodic and relatable songs that not only are memorable but also speak to the human heart. When you have mastered that art it is no wonder singer/songwriters are able to write so much high quality material and Time Capsule is a straight forward example of this.
Categories: Album Reviews