| | |
| --- | --- |
| Posted on July 15, 2016 at 1:25 AM | |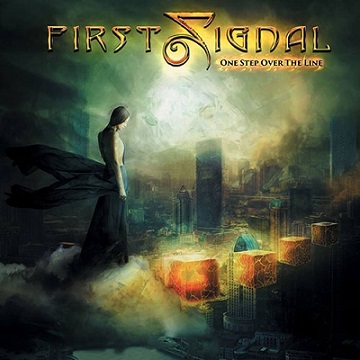 First Signal – One Step Over the Line.
Written by Juliano Mallon
In this time and age, when projects arise like weeds in the cracks of sidewalks, the risk of finding something that surprises us (positively, that is) is very small; even when big names are involved. But there are some honourable exceptions, First Signal being one of them. With the unmistakable soaring vocals of Canada's Harry Hess, the project released its first album six years ago and was very well reviewed at the time. Now Hess returns with skilled musician/producer/songwriter Daniel Flores and Michael Palace to release "One Step Over The Line", First Signal latest opus. And the difference between this album and the previous one is huge...
The biggest change in musical approach, sounds more polished and better organized, not to mention the production of Daniel Flores, more precise than Dennis Ward's. And the differences are felt in killer rockers such as "Love Run Free," "Love Gets Through" and "Broken" (both highlights of the album, with overwhelming choruses), "Kharma" (another highlight, with well distributed keyboards in the arrangement), the great "She's Getting Away" (another highlight with a huge chorus), "Pedestal" and the explosive "One Step Over the Line" (another highlight which has a spectacular chorus).
On the other side of the coin, we have the sweeping power ballads "Still Pretending" and "Weigh Me In", both more than worthy of being singled out as album highlights, each with its gut-wrenching chorus. And it's still worth checking the rockers "Minute Of Your Time" (where I would take away most keyboards) and "December Rain", whose alternating pace between verse and chorus bothers me a little, but not enough to ignore this song completely .
In short, my dear friends, the return of First Signal is a cause for celebration! I will be redundant to say that Daniel Flores' arrival has drastically changed the musical direction of the project for the best, especially in the melodic department. However, the differences do not mischaracterize the sound to the point of First Signal sounding like another band, and Harry Hess' powerful vocals bridge the gap between the two moments in a flawless way. With the right production, a set of amazing songs and one of the best singers this side of the universe in top form, "One Step Over The Line", in a big way, marks the return of First Signal with an album that is way more than recommended.
Categories: Album Reviews