| | |
| --- | --- |
| Posted on July 15, 2016 at 1:20 AM | |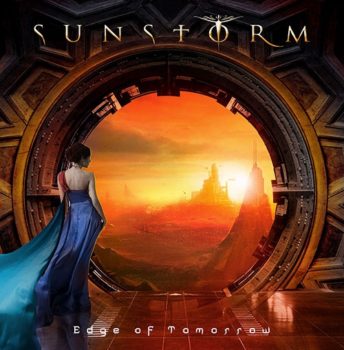 Sunstorm – Edge Of Tomorrow
Written by The Rock Man
Having played with some of the biggest names in hard rock/metal music such as Yngwie J. Malmsteen, Rainbow and Deep Purple, in addition to a successful solo career that has yielded several highly acclaimed albums, American rocker Joe Lynn Turner has been a journeyman over the duration of his 40 year career. It is hard sometimes not to joke about which band JLT hasn't played with because, let's be honest, he has appeared on more hard rock/metal albums in his time than I have had hot dinners. But there is a reason that he has been in such high demand, and it is a simple reason: the man just keeps pumping out quality work time and again.
Take for example his contribution to the project known as Sunstorm. Since the self-titled debut album landed in 2006, Sunstorm have managed to produce energetic, memorable and sophisticated material on a regular basis and the fourth outing for this group titled Edge Of Tomorrow sees the benchmark raised significantly.
Edge Of Tomorrow, for all intents and purposes, is an edgy, stylish and striking melodic hard rock feast guaranteed to bring delight and satisfaction to the most passionate of JLT devotees. From the moment you push play the album follows a pretty simple formula of intoxicating, uncomplicated and lavish melodies combined with effortlessly sung vocals and harmonies served on a bed of driving, meaty and aggressive guitar work, which on occasion borders on pure metal in attitude and approach. The 11 track album takes flight with Don't Walk Away From A Goodbye and the title track and from here the pace and feel of the record is set. The tone overall is feverish, dynamic and upbeat and tracks like You Hold Me Down, Heart Of The Storm and Burning Fire are further proof of that. The sole ballad of the record is Angel Eyes and, like countless times before over the course of his 40 year recording career, JLT delivers yet another soulful and heartfelt vocal performance.
On the previous three Sunstorm releases, producer/songwriter and musician Dennis Ward was at the foundation of each recording. However for this new body of work Ward has been replaced with former Eden's Curse keyboardist Alessandro Del Vecchio. Since departing Eden's Curse in 2013, Del Vecchio has become Frontiers Music's 'go-to' guy for production, song writing and playing on most of the label's releases in modern times. In fact, it is difficult these days to pick up an album from Frontiers and find him not involved in some form or fashion. And it is easy to see why; his keyboard playing on tracks such as The Sound Of Goodbye and The Darkness Of This Dawn are irresistible and the production of the album is simply first class all the way.
'Class'… you know, when I think about it, that's what JLT represents. Every record of his, whether it be as a solo performer or with a band, has always been first-rate and the Sunstorm project has been no different. If, for whatever reason, you have missed the work of Sunstorm over the past decade, Edge Of Tomorrow now gives you the perfect opportunity to familiarise yourself with this masterful and accomplished act. Edge Of Tomorrow won't leave you disappointed, I promise.
Categories: Album Reviews