| | |
| --- | --- |
| Posted on July 15, 2016 at 1:10 AM | |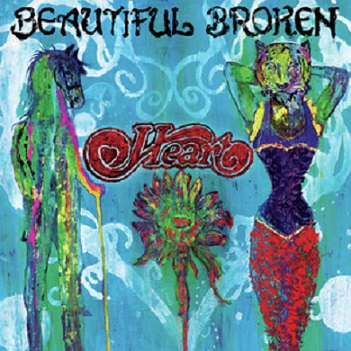 Heart – Beautiful Broken
Written by The Rock Man
It has been several years since Rock and Roll Hall of Famers Heart, led by sisters Anne and Nancy Wilson, have had any new product available on record store shelves. The band's last album, 2012's Fanatic, saw the group return to the Top 30 of the Billboard 200 album chart and re-established the band's hard edge rock credentials. So in January of 2016 when founding member/songwriter/lead guitarist and vocalist Nancy Wilson announced that the band would be releasing a new album mid-year, I was hopeful that it would continue on from the groundwork laid out by the previous record. Now that album, titled Beautiful Broken has landed but isn't quite what I had in mind.
Rightly or wrongly when I hear the words "new album" I always assume that means "all new material", however that isn't always the case as this record proves. Beautiful Broken contains 10 cuts that feature several re-worked songs from their back catalogue in addition to three new songs. Of the remade material the song selection focuses mainly on tracks from three albums from the early 1980s, Babe Le Strange, Private Audition and Passionworks.
The album launches into positive territory with the title track; this is a song that was originally found on the deluxe edition of Fanatic and while the original version is a more than adequate body of work, this new reincarnation is simply wicked. I never would have thought in a thousand years that I would one day hear Metallica's James Hetfield guest on a Heart song, but here it is and it is stellar. While the original track is pretty edgy to begin with, what Heart and Hetfield have done here is propel the song to exceptional new heights. Two, the first of three new songs, sees Nancy Wilson take the microphone; in isolation this is a monstrous ballad but the decision to slot this in the track listing as the second song is in my opinion a little baffling. When an album kicks off in such a striking way I believe you should follow that up with another track that will knock you off your feet.
Sweet Darlin' follows and the obvious changes to the song are the extra multi-track guitars, new complex drum beat and the inclusion of violins. But in general the track keeps its original character. I Jump is the records second newly written tune. The guitars, drums and additional violins possess a hypnotic Led Zeppelin texture about them and once this song works up to a reasonable pace is a pretty awesome track. Heaven rounds out the third new song for this recording. It has a strong Middle-Eastern opening which flows throughout the track but when the edgy guitars and drums kick in the song raises itself up to another level.
City's Burning is straight up awesome; while the track maintains it original spirit to that heard on the Private Audition album, the guitars have an almost industrial kind of vibe about them now. Of all the re-recorded songs available here on this record this one stands out as having a more modern day make over. Down On Me keeps to the basic framework of its 1980 original, the only real tweak that has been made is a more bluesy approach. Language Of Love is a solid mid-paced rocker on the Passionworks album, however on Beautiful Broken the Wilson sisters have opted for a more laid back acoustic/violin drive interpretation, which left me a little puzzled as I am a fan of the original song and couldn't see the need to go in this direction.
Overall this is a mellow listen with so many ballad-ish type tracks on offer. Personally I would have liked to have seen more up tempo tracks given the 2016 upgrade and included. That being said though, Beautiful Broken is a very well-produced, arranged and executed album which should bring many hours of enjoyable listening to their massive and loyal fan base.
Categories: Album Reviews