| | |
| --- | --- |
| Posted on June 6, 2016 at 9:30 PM | |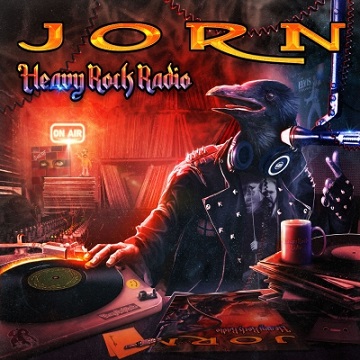 Jorn – Heavy Rock Radio
Written by The Rock Man
It has been a long held belief of mine that if you are going to cover someone else's material then at the very least you should do it the justice it deserves or don't do it at all. Norwegian hard rocker Jorn Lande is no stranger to the world of cover versions. He can accredit to his name to cover albums such as Unlocking The Past (2007) and Dio (2010), as well as the odd cover track included on various studio records. And every time Jorn adds his take on a cover version he not only treats it with the necessary respect that is warranted but he also manages to elevate them in some cases to a higher level. So keeping this in mind when I heard about the up-coming covers album from Jorn titled Heavy Rock Radio, I knew even before hearing one single note on it that it was going to be an experience of enormous proportions. And as it turns out I wasn't wrong.
While Heavy Rock Radio features a number of songs from bands from the rock/hard rock world which have been instrumental in the development of Jorn's musical upbringing there are a few surprises you simply wouldn't expect. For instance the album opener, I Know There's Something Going On which was a major worldwide hit for former ABBA singer Frida in 1982. The track sets the tone of the album with its consuming metal approach.
In my time I have heard my fair share of renditions of Kate Bush's Running Up That Hill. Generally, for the most part they are better than the original, however what Jorn does with this song is hands down the best version I have heard to date. The track is elevated to a strength I never thought possible. The biggest surprise for me is a version of a track called You're The Voice. This was originally recorded by Australian AOR legend John Farnham. To most Australian's this song is like our unofficial national anthem and the fact that anyone outside of Australia knows the song, let alone would want to cover it, is quite astounding. That being said the track gets the full Jorn-ized treatment and seriously rocks.
Naturally all the big gun rockers from the '70s and '80s are here as well. There is no end to my frustration when people who simply don't have the vocal skills to take on a Queen song insist on trying to sing like the late Freddie Mercury. On Heavy Rock Radio Jorn tackles Killer Queen and is triumphant. Why? Because Jorn doesn't think he is Freddie Mercury and approaches the song in his own tone, range and vocal style. Other staples from this era include a version of Foreigner's Rev On The Red Line, Deep Purple's Strombringer, Black Sabbath's Die Young and the best version of The Eagles Hotel California, ever!
Of course, a hard rock covers album just isn't complete without a Dio cover and filling that quota is Rainbow In The Dark. Personally I have always found Jorn's vocal style to be in the same ball park as the late great metal legend's, so it is hardly a shock that I would think this is a respectful tribute. But it's not all golden oldies, there are a couple of more recent efforts available here to: such as Paul Stanley's Live To Win and Iron Maiden's The Final Frontier.
From start to finish Heavy Rock Radio is packed with stunning material. But that was never going to be hard to accomplish when you consider the quality of some of these songs to begin with, and then attach to that the flair and artistry of a performer who I'm not sure gets enough kudos in the hard rock world. The result adds up to this, Jorn's Heavy Rock Radio is this year's must have album for lovers of, well... heavy rock radio.
Categories: Album Reviews