| | |
| --- | --- |
| Posted on June 6, 2016 at 9:20 PM | |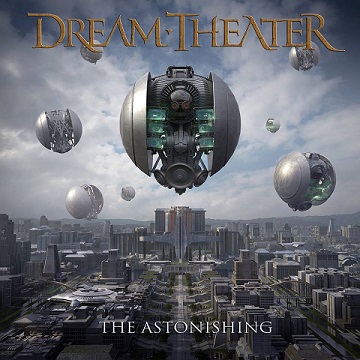 Dream Theater – The Astonishing
Written by Dave Smiles
Dream Theater have always demanded a lot from their listeners, which is cool because fans who get it have demanded a lot from them, and this back and forth requirement has worked for the most part of Dream Theater's almost thirty year career. Now with the release of their thirteenth studio album, the two disc epic titled The Astonishing, the band have delivered a two hour and ten minute story based in a fictional world created by John Petrucci where music has become regulated and manufactured by machines (sounds like a horrible world). Obviously inspired by modern music's over reliance of technology. The setting of this dystopian society is somewhere between Game of Thrones and Star Wars.
The band's previous concept album, 2000's Scenes From A Memory had fully developed characters telling a brilliant story. It took the listener a while to fully grasp the depth of what was going on with this story. With The Astonishing, setting, story and character development have all been taken to the next level. Musically, this is what you would expect from Dream Theater. Aspects of soft and heavy, technical proficiency, atmosphere, and odd time signatures. While it's familiar, it also seems a little formulated. Disc one takes the softer side while disc two the heavier side. I would have liked to have seen the styles mixed up a little more.
This could be a lot to take in for even the most dedicated Dream Theater fans. It's not something you can take in with a few causual listens, nor can you fully grasp all the characters unless you give it your full attention over a number of listens. Hopefully, it gets the attention it deserves. Setting the story early on disc one, during the song The Gift of Music, LeBrie states 'No one has time for music anymore….' There's been endless discussion about people no longer paying for music. (Which I think is criminal) but I won't go in to that here. What I will ask is at least take the time to really appreciate what has gone in to creating music, what it's about, the time, energy and motivation behind it, and then think about what it means to you. Music is important, and can't be left to be cheapened any more than it already have in the past decade.
So what would happen if Dream Theater were to write shorter songs? They'd deliver a double album thirty four of them. With only six of those tracks barely exceeding the five minutes and the longest track clocking in at seven minutes forty, you could be forgiven for thinking this is a different Dream Theater, but with the vastness of the story and the musicianship on display this album shows how Dream Theater continue to progress with this music.
With engaging songs, and a story about the importance of music to the future of humanity, this could be one of the most important albums of the band's career.
Categories: Album Reviews