| | |
| --- | --- |
| Posted on May 23, 2016 at 11:55 PM | |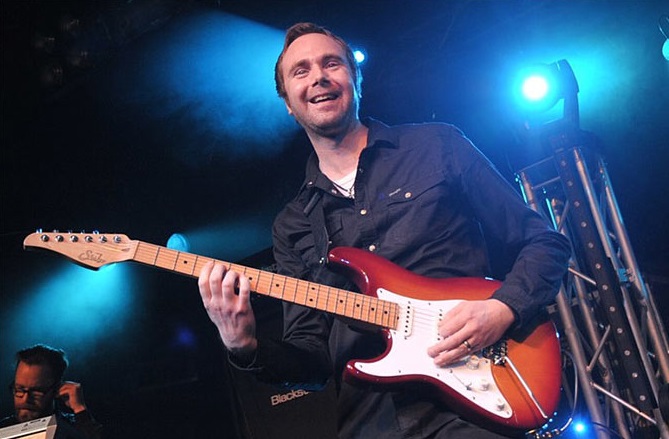 Interview with Robert Säll
By Juliano Mallon
Two years ago, Sweden's own Work Of Art relaseed "Framework", their latest album, widely acclaimed by critics and fans. But since then, the trio went under the radar and nothing more was heard from them. Now, I bring you this interview (originally posted @ the AORWatchTower), where Robert Säll, mastermind behind Work Of Art, talks about the past, present and a possible future for the band ...
Work Of Art released 3 excellent AOR albums between 2008 and 2014. How do you see those albums today?
ROBERT SALL: I still think they hold up pretty well. Obviously the first album was a huge learning experience for us whereas the latest album was pretty quickly done because by now we know how to work in the studio to get our sound.
What was the biggest upgrade in the band within those 6 years?
ROBERT SALL: Again, I think we are much more comfortable in doing what we do which means we can work much quicker and with more confidence, especially in the studio. Which is a good thing because outside the band, during those six years, we all have started families so the reality is that we don't have so much time to spend on Work Of Art like we had six years ago.
And that brings me to the question that originated this interview: what's the current state of Work Of Art? Is it over or just in a self-imposed hiatus?
ROBERT SALL: Well there will most likely be a new Work Of Art album somewhere down the line but, it's gonna take a while before we start working on that one. Right now we are on what you call a "self-imposed hiatus", being family men and working on some other projects but sooner or later, there certainly will be a new record from us:-)
That's great news... it'd be just sad if Work Of Art had run its course. But you mentioned you guys are working on other projects. Could you tell something about that?
ROBERT SALL: Well, among other things Lars is finishing up singing on the Lionwille album. I've been helping out writing some stuff for that album as well. Then both Lars and Herman are doing different things outside the band right now. I myself, are currently writing songs for a new Frontiers project which will be official later this year. So, we stay busy.
It all sounds promising... Since you mentioned Lars, there's been rumours going around for a while about a solo album of his. Is there any truth to that?
ROBERT SALL: Nope!
Okay. Going back to Work Of Art, there've been many reissues in the past few years, anniversary editions and the sort; "Artwork" is going to turn 10 in just 2 years, have you ever thought of a special edition for that? (or for any of the albums, for that matter)
ROBERT SALL: No I don't see what we could do to make those album more "special" for a anniversary edition. There aren't really and songs that were left off that we could add or stuff like that but, if Frontiers records would approach us about doing something like that, we would certainly try to come up with something. But don't think it's likely that they will though.
Oh, you already answered my next question... so, there are no unreleased tracks from Work Of Art?
ROBERT SALL: No, there are some tracks that we worked on but never finished because, well, they sucked (laughs). I'm allowed to say that because I wrote them!
I'm sure fans would love to be the judge on that topic...
ROBERT SALL: I'm pretty sure they would be rather disappointed. But what do I know? (laughs)
It is a fact that Work Of Art had a winning songwriting formula, tested and trued in their albums. So, let's consider a next one... how different would it be, musically speaking? And I ask you this because I believe there are songs you recorded back in the day that you'd do differently now.
ROBERT SALL: Personally, I think we have kind of taken Work Of Art as far as we can in the direction we have been going for a new album; we will surely take some chances and try to make things differently. Mainly because we need to make it feel fresh and exciting for ourselves. I think doing a fourth album sounding like the three earlier once would maybe be safe but very boring. But, I can promise you we will deliver and album with songs that we feel very strongly about. The way I feel about it, I really would like for the new album to show where we are as musicians today.
Exactly. I've been talking to some friends about the 'playing safe' some cool bands are doing. Sad to hear good songwriters insisting on a process that's already wearing off. Finally, what have you listened to lately that you'd recommend to my readers?
ROBERT SALL: Well to be honest, I haven't heard anything that has made me go "WOW!" in a very long time. I mean I listen to a lot of stuff, trying to keep myself updated but nothing stands out. The things that really have grabbed my attention lately is movie scores. Jerry Goldsmith or Alan Silvestri are two composers that I'm currently really into. Or for the AOR fans, check out all the wonderful movie scores Vince DiCola has done, amazing stuff!
Yeah, there's this "sameness" around making everybody sounding like everybody. Maybe it's due to a few producers work on a lot of different albums that get released one after the other, perhaps?
ROBERT SALL: Absolutely and also, I'm a person who gets bored pretty quickly. That's why I always played and write in a lot of different styles. The funny thing is though, when I'm working on music that is not in the AOR genre, after a while of doing that, that's usually when I write my best AOR stuff. I guess I work up an appetite for it when I do other stuff.
It works like a 'detox' when writing in a different style, doesn't it? Leaving your comfort zone brings new pespectives to your work, I believe.
ROBERT SALL: Spot on.
Okay, Robert... I want to thank you for taking time out on a Sunday to talk with me again. It's always a pleasure and I wish you all the best on your future endeavours. Oh, and I'm going to start a countdown to the new Work Of Art album (please keep me posted on that) Thanks again, mate.
ROBER SALL: Anytime my friend! A pleasure as always.
For more information about Work Of Art visit the band's official website at https://www.facebook.com/musicofworkofart/
Categories: Interviews