| | |
| --- | --- |
| Posted on May 19, 2016 at 9:30 PM | |
I must confess that up until recently my knowledge of guitarist Tracy G only extended as far as his work with DIO during the 1990s. But I have come to discover there is much more to the man than just his ability as a metal axe man. And while his abilities as a guitarist are very impressive, so are his abilities to write, produce and record top quality material; not only for himself but also for others. For several years now Tracy G, along with vocalist/songwriting partner, Mike Beatty, have been the driving force behind The Tracy G Group. I recently had the opportunity to catch up with both gentlemen to discuss the journey of the band thus far, their thoughts on the music industry and their brand new explosive album Tramp.
The Rock Man: Firstly, Congratulations on the release of the new album Tramp. I would imagine that the band is very happy with how this new collection of material has turned out?
Tracy G: Thanks Rock Man… As far as I'm concerned, this is the best CD I've put out. Each CD I do, I think comes out better because of the work in progress, learning the studio better and where things should be, producing it, and you get a little bit better each time you do it. And this one…. I love the sound of it and everybody's performance is awesome. So personally I think it kicks ass.
Mike Beatty: We're extremely happy with it. Every tune has something to say!
RM: Before we dive into talking about the new record in detail, for those that aren't too familiar with the band can you give us a brief history of the band and how it all came together?
TG: The Tracy G Group has been around for many years and has had many members. Currently the line-up is Adrian Aguilar on drums, Randy Oviedo on bass, Michael Beatty on vocals and Tracy G on guitar. I've known Mike Beatty for 30 years, since '85 or something like that. We've done a lot of gigs together. Mike's a singer/songwriter, guitarist, keyboard player and vocalist. We've done a lot of gigs just me and him. I met him in church. We've played at churches, played at coffee shops, played at bars, parties. A lot of just two-man band stuff. Mike and I have done a lot of classic rock and originals. His originals, my originals but I never did anything heavy metal with him before. It's always been on the lighter side with him until a year ago when we tried War Pigs and he did that great. Then we tried a DIO song Strange Highways and once he sang that and he did it really well, I thought I should give him some of my heavy riffs and songs. Tramp is the finished version of what he does with my heavy stuff. It works really good and really smooth. He's singing my songs and he writes all the lyrics. Randy Oviedo I met a few years ago through other musicians, he's a killer bass player. Adrian Aguilar is a local drummer, a killer drummer who can play pretty much anything I throw at him. The CD Tramp has Ray Luzier from KORN, he played drums on 4 tracks. Patrick Johansson also played drums on 7 tracks. Patrick played with Yngwie Malmsteen for I think 14 years. Then Adrian, so it has some killer drumming on it. Adrian is our drummer and Patrick was a guest. So the band 2016 version is Me, Mike, Randy and Adrian
RM: In terms of musical heroes, who were the biggest influences on you growing up?
TG: When I was growing up, I think Black Sabbath was the first heavy group that I got into. Prior to that, a lot of R & B, my older sister listened to a lot of dance music so I loved Sly & The Family Stone. Just a lot of dancing stuff, I was a little kid, so I was drawn to Funk, and Soul, stuff that grooved with lots of rhythms in it. I heard Black Sabbath when I was 12 or 13 years old. Once I heard that and Tony Iommi, my influences were pretty much Sabbath, Led Zeppelin and Deep Purple. Ritchie Blackmore, Jimmy Page and Tony Iommi, then a lot of others. Michael Schenker, AC/DC and then along comes Van Halen. I also like fusion and fusion. Al DiMeola and Pat Metheny, also Carlos Santana. My influences are all over the place. All styles.
MB: I grew up listening to a lot of Beach Boys and Neil Young. Anything with harmonies. When I got to High School, two things hit me hardest musically. The LA Punk scene. X was an influence…hard hitting lyrics, slamming beats with Billy Zoom playing these amazing rockabilly licks to punk tunes. Then I heard Unleashed In The East from Judas Priest…. it BLEW ME AWAY….. Exciter changed my life.
RM: As I previously mentioned, the new album is titled Tramp. This is your first album of all new material since Collateral Chaos in 2011. Why was there such a long gap between records?
TG: There's two other projects since 2011. One was called Deviating From The Set List. It has a lot of my favourite cover tunes. I don't sell it, it's on my website, but I do give it away for promotion. I also did one with the Tracy G Group This Device same line-up as now with a few Ray Luzier drum tracks as well. Sometimes I just get busy doing other things or it just takes a while. I record and produce a lot of bands in my studio. I try to put out something once a year, but sometimes it doesn't work out, I get busy.
RM: Did this album provide you with any challenges in the studio or in the writing sessions or was it a pretty easy album to make?
TG: Not too many challenges. It was pretty easy to put together. I write all the songs musically and then I hand them to Mike unless I think they're instrumentals then I finish them off. Patrick Johansson lives in Florida and we live in L.A., so it took a little bit of timing to get him over here. We wanted him to be here in the G Factory studio to record it rather than just do it all over the internet. It was important to have him here in the room with all of us. Once we got Patrick out here it went really fast because he's such a great drummer. All the drum parts went quick. All Mike's vocal parts, he does almost on the first take. Same with Randy, it all goes fast, went smooth and flowed easily.
MB: This was a lot of fun to make. Like Tracy said, we'd been friends for 30 years and I've seen almost every singer he's had. Tracy is the most laid back guy you will ever meet, but when it comes to music he is dead serious. We play in bars all over Southern California just the two of us. We do classic rock with some crazy arrangements. People dig it and it's a good living. But I'd never sang metal. A huge fan of metal most of my life. But never sang it. When Tracy asked me to sing War Pigs at a gig, it was extremely cool. I felt right at home. Then a few weeks later he asked me to sing Pain and Strange Highways, the classic DIO tunes he co-wrote with Ronnie. I was honoured but extremely intimidated. I mean… Ronnie is the greatest rock vocalist EVER. PERIOD…So I couldn't do it half ass and if it sucked I wouldn't do it. Those tunes are that special. We tried it out and I got really good feedback from DIO fans. So we just kept pushing on.
RM: Every band has their way of working and putting an album together. What is the process in The Tracy G Group?
TG: I write everything first by myself. I work best that way. With a drum machine I lay down the grooves, the bass, the riffs, the basic idea and make it sound as good as I can. If it needs vocals I give it to Mike. On his own, he takes the ideas, writes the lyrics and melodies then comes over and demos it. We look at each other and know right away if we have a song that's happening or not. 99% of the time I gave him a song, he came back and we had a song. Some of the tracks we kept the vocals from the original demo. They kicked ass, no need to redo them. Then Randy comes over, lays the bass tracks, adds his style, over my basic bass playing and the drummers come in and play to a click. Unfortunately, we don't play all together; we don't play at the same time. I have to layer, because I have such a small studio and we can barely all fit in it. My goal as a producer is to make it sound like we all played the thing together. Like were all in the room together, but I'm pretty happy with the results, sounds pretty cool. So that's pretty much the process of how we record here in LA at the G Factory Studio.
MB: Tracy gave me a CD of 16 instrumental songs and told me to write some lyrics and melodies and come record them one at a time. So we did and that's how Tramp came about. I would pick a song that jumped out at me, listen to it a million times, and write. We did that every week for 10 weeks, almost a song a week.
RM: Let's talk about some of the tracks on the album. Let's start with The Revolution which is the lead single. What sort of feedback are you getting about that song?
TG: Real positive. I think it's pretty heavy, some great reviews and comments. That song was first an instrumental. Once Mike started singing on other stuff, I gave it to him and said "See what you could do with this", and that's what he did with it. So pretty awesome I think.
MB: When I first heard that riff I thought old Sabbath instantly. When I first recorded the vocals, Tracy said the same thing so I knew it would be cool
RM: The track Arrogant Prick is one of those songs I think most of us can relate to at one point or another. Was that written with anyone specific in mind or just as a general lyric?
MB: Every song has a person or people in mind. This one specifically is about a local business owner here in Southern California. A guy we made a lot of money for playing at his place. But he talks behind your back, acts like he's the bigshot, yet everyone is laughing at him behind his back. As musicians we are often treated like shit. It comes with the turf I guess, but as you get older and somewhat wiser, you can let bitterness overtake you or write a song about it and let it go (sort of). The anger comes through clearer in the music. Hopefully that translates… I am hearing it is!
RM: Leech has got one of the best metal guitar and rhythm section melodies I've heard for a long time. What can you tell me about that track?
TG: Thanks for that. The Leech lick came about like all my licks, by just jamming. I sit outside and I have like a 40-foot cord and my amp is about 90 feet away inside so I can barely hear it. It sounds better that way. When I come up with something cool, I record it so I don't forget it. I hear the arrangement in my head. So I take the drum machine, bass and rhythm and lay out the song. I have no idea what Mike is going to sing or write about until he comes over to record the demo. Actually that part is pretty exciting when he comes over and I get to hear for the first time what he's written. I like 4/4, but I like to mix it up so I put a 7/8 part in there to fuck it up so it's not always the same.
MB: Tracy and I have about 9 future CD's worth of anger from life experiences, so it's easy to write lyrics. His riffs are scary and heavy, so the lyrics have to at least match the music or it sounds lame. Everyone knows a Leech, a parasite that will suck the blood out of you and move on to something or someone else…..I love that song.
RM: One of the strengths of the record is the handful of instrumental tracks on the record. These tracks seem to have a slightly different tone than the more aggressive tracks I previously mentioned. Was this by design or just the natural progression of the recording process?
TG: Almost everything I write is an instrumental to me, cause I write the music first. I like to make sure it has a cool natural flow to it. Once I get to finishing all the parts and I can hear vocals in it, I give it to Mike. I love instrumentals because I get to play a little different. I play a certain way with a singer, any singer and different singers make me play different too. Whenever there's singing in a song, I'm going to play around the singer because the singer is the main thing; until he stops singing then my solo is the main thing. That's kind of how I hear it. My solo takes the place of the singing, that's how I see it. I sing through my solos. So on the instrumentals my guitar is the singer so it gives me a chance to speak different. That's all I'm trying to do in the Tracy G Group is cover all my different influences that I hear in my head. I try to follow the sounds in my head to play the best I'm able to. So they sound a little different because I'm not following a singer's pattern and I can get a little crazier with the music and I can go different places.
RM: The music industry has gone through many changes throughout the years; can you put your finger on one that has had the most impact, for better or worse?
MB: Technology has changed it for good and bad. We have zero overhead… Tracy records, mixes and engineers the whole project. We have our gifted friends do the artwork and a local manufacturer makes the discs. I shoot, edit and produce all our music videos. No overhead! We live near some of the most famous studios in the world that sit relatively empty.
RM: Given the decline in record sales and the popularity of services such as iTunes or Spotify and illegal downloading there seems to be growing concern that it is not worth making full length albums anymore. What are your thoughts; are full length albums still valid in this day and age?
MB: We do it for the love of music. We are by no means rich, but we have full control of what we release. No one tells us how to mix it or what we should do. That is the great part, we are not part of the machine. Therefore, we can release, write or record when we want. If people love it, cool… If not, we aren't changing to fit anyone's mold of what they think we should be. That is the cool part, full albums? Hell Yeah! Why not?
RM: What advice, if any, would you give to any aspiring musicians looking to make a career in music?
TG: Don't be an Arrogant Prick and don't be a Liar. Don't be a Bunghole! Be a musician. Like all music. Get into all kinds of music if you can. Be open and not close minded. Don't just listen to "Country" only, or "Metal" only or just instrumentals. Listen to all types of music. Don't label yourself or what you do. Just be the best musician you can be. Don't be a flake. Don't be afraid to do your own thing. Be yourself, that's my advice.
RM: Once again, congratulations on the release of the album Tramp. On behalf of everyone here at Full Throttle Rock I would like to wish you the best of luck for the record and many years of continued success.
TG: I'd like to thank the Rock Man and Full Throttle Rock for the interview. It's very cool that you took the time to listen to the CD. We really appreciate your support. Keep rocking and we hope to get to Australia and do some shows, Rock and Roll!
MB: We LOVE Australia, my Mom was born there and dammit I want to tour there. So we shall see. We really appreciate the great review from you and Full Throttle Rock. You get it and it means the world to us… Thank you and Mahalo.
For more information about The Tracy G Group visit the band's official website at www.tracyg.com
The Tracy G Group – Tramp is available on Tracy Records and for digital download on www.tracyg.com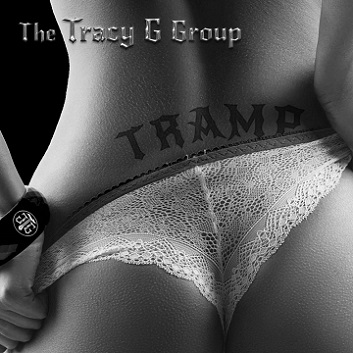 Categories: Interviews