| | |
| --- | --- |
| Posted on May 2, 2016 at 10:15 PM | |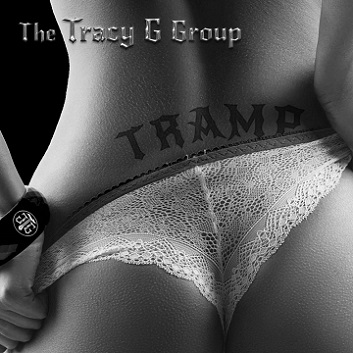 The Tracy G Group – Tramp
Written by The Rock Man.
If you like your music heavy… and I mean "Heavy", then Tramp, the new offering from American metallers The Tracy G Group is for you. This is seriously not for the faint of heart. If you are a serious hard rocker/metalhead the name Tracy G should be familiar to you. From 1993 to 1999 he made a name for himself as the lead guitarist in Dio before involving himself in a number of other projects. One of those projects is The Tracy G Group who released their debut self-titled album in 2003. Since then the band have released a steady flow of records with Controlled Chaos in 2011 being the last, which is until now. So it's fair to say it has been a long wait for new material but I feel pretty confident fans will forgive them once they hear this explosive record.
Tramp is a 13 track album that can be divided into two categories: four enthralling and scorching instrumentals; and nine bone crunching, aggressive, dark toned rock tunes. So let's focus on the instrumentals first; I've never really been one for instrumentals which is kind of strange when you consider that I am a musician myself. You would think this kind of thing would be right up my alley, yet I couldn't care any less for them. However there is something very hypnotic about the instrumentals on Tramp and they refuse to let you go. The prowess and creative flare that Tracy G executes on these pieces of work is nothing short of extraordinary. For would-be future guitarists The Erector, The California Country Jamboree Funkfest and P.C.H. should provide you with an awe-inspiring experience.
Now on to the rockers. The combination of vocalist Michael Beatty and guitarist, and band architect, Tracy G is a lethal one and from the opening track The Revolution you feel their full force. The guitars are brooding, gritty and have a lot of depth and weight to them and musically this ambience flows throughout the record. For his part, Beatty, at times, possesses an early Ozzy Osbourne/Black Sabbath like quality to his singing. However he still is his own man with his own unique style and attitude which serves him well on tracks such as Fireball, Sea Of Pain and Bleed. If the full frontal metal guitar and rhythm section assault of Leech doesn't get you headbanging, then you are obviously missing a pulse. And Arrogant Prick is just one of those songs I am sure many will be able to relate to.
Whether you're a fan of old school '80s metal or '90s post grunge metal or maybe even some of the modern metal styles going around today, you'll find something on here of interest. This makes Tramp a pretty diverse collection of material and an album you will not forget or put down in a hurry.
Categories: Album Reviews