| | |
| --- | --- |
| Posted on April 26, 2016 at 1:10 AM | |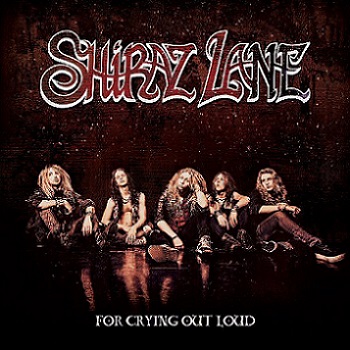 Shiraz Lane – For Crying Out Loud
Written by The Rock Man
Question: Take the sleaze of Motley Crue, the aggression of Skid Row, add a dash of Guns N' Roses attitude and what do you get?
Answer: Shiraz Lane.
This new young five piece outfit from Finland is set to turn the rock world on its head with its spirited, assertive and genuine brand of hard rock and roll on their stunning debut album For Crying Out Loud.
Formed in 2011 the band is led by Hannes Kett on vocals, whose distinctive and spiralling vocal melodies and harmonies is at times on a par with Justin Hawkins (The Darkness) or Mark Slaughter (Slaughter). On guitar is the twin axe assault of Jani Laine (not to be confused with the former Warrant singer) and Miki Kalske, who are the driving force of this group and also serve as the album's producers. And rounding out the band is the thunderous and groove laden rhythm section of Ana Willman on drums and Joel Alex on bass.
Having gained a reputation within the underground live music scene as being a breath of fresh air and one of the most engaging and exhilarating performers going around today, the boys gained national interest after releasing two singles online in 2014. This led to the release of a five track EP in 2015 and a mammoth touring schedule at major Festivals across Europe, North America and Asia as well as an extensive support slot with Santa Cruz across Finland. With such momentum it was only a matter of time before these guys were signed to a major recording deal and the good folks at Frontiers Music SLR know a good thing when they hear it.
As do I, but what I didn't expect was for this first offering to be of such high quality. It's fair to expect a new band to take an album or two to iron out the kinks and reach some sort of potential. But from moment one of For Crying Out Loud, Shiraz Lane have all the skill, knowledge and solid work ethic of seasoned performing veterans.
The album explodes out of the blocks with Wake Up, a song which challenges racism and intolerance and strives to take the moral high ground. "Why can't you see we're all worth the same/We're all part of the human race/We're blinded by colour/We're blinded by greed/Lost in a suicidal symphony" sings Kett with defiance. It's clear that lyrically this young band has a strong sense of morality and social consciousness; look to House Of Cards, Mental Slavery and the rebellious title track as examples of this.
The over the top '80s glitz and glamour LA hard rock sound comparisons will be hard to ignore. Particularly on tracks such as Momma's Boy and Begging For Mercy. But the album isn't all balls to the wall rock and roll; when needs be the band can shift gears and present a lighter side and tracks such as Same Ol Blues and Bleeding serve the band well on both occasions.
This might be a big call so early in the band's career, but I believe with the strength of this first effort that they are on a fast track to international superstardom. Lately much has been made of the argument "Where are the next batch of superstar bands coming from?" No need to worry rock fans, they have already arrived and their name is Shiraz Lane.
Categories: Album Reviews