| | |
| --- | --- |
| Posted on April 26, 2016 at 1:00 AM | |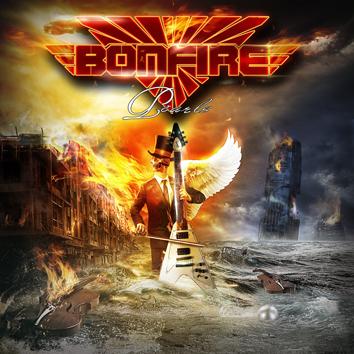 Bonfire – Pearls
Written by The Rock Man
30 years ago I was lucky enough to stumble onto this new German hard rock outfit calling themselves Bonfire. Their debut album, Don't Touch The Light had me hooked from the get go and what struck me the most was how American they sounded for a German band. I mean look at other bands of the day like the Scorpions or Warlock, they sounded German; but not Bonfire. I have always felt that the driving force behind this was guitarist and founding member Hans Ziller and vocalist Clause Lessman, and that this was a formidable combination that would get better throughout the years and with every album release thereafter.
The band would continue to maintain and develop that American sound, even after Ziller left for a period from 1989 to 1996, with such titles as Point Blank, Fuel To The Flames, Strike X and Double X. Although there would be a number of line-up changes Bonfire was always at its strongest when Lessmann and Ziller were involved but that partnership came to an end in 2015 leaving Ziller to find a replacement, which he did in journeyman David Reece. These days the band is more of a "United Nations" outfit rather than a German band and this is reflected in the tone of their new album Pearls.
What Bonfire offer up here on Pearls is a double album of re-recorded "classic" tunes to celebrate the 30th anniversary of the band. The album is divided into two categories: the first CD features 13 of the band's best hard hitting rockers which have all been given a more worldly, modern and fresh approach. I'm talking about big Earth crushing rockers like Under Blue Skies, Sweet Home Alabama and Strike Back. Sweet Obsession and American Nights which were remade for the band's previous studio album Glorious are also included on this package. The strangest inclusion to the tracklisting is a re-worked version of Loaded Gun from Reece's other band Bangalore Choir which brings the first disc to a close. Why they have decided to include this I have no idea but I have to say I prefer the original.
The second CD features nine of the band's most loved ballads. Again, they also get the re-worked/rearranged treatment. Good, well-written and crafted songs stand the test of time and even with a different singer and arrangement these ballads still shine bright in the Bonfire repetiteur. You Make Me Feel, Who's Foolin' Who, Good Night Amanda and Why Is It Never Enough all benefit from the new Ziller/Reece alliance.
Initially I had real hesitations about what I might find on this album. I make no secret in the fact that I am a die-hard Clause Lessmann fan and I treasure those original versions. However once I left all of that at the door I got a real feel for what Ziller and co were trying to accomplish breathing new life into these timeless songs. While I'm not prepared to boldly state that these new recordings blow the originals away, they do serve as a solid salute to the band's 30 year history and make for a very enjoyable listening experience.
Categories: Album Reviews