| | |
| --- | --- |
| Posted on April 26, 2016 at 12:55 AM | |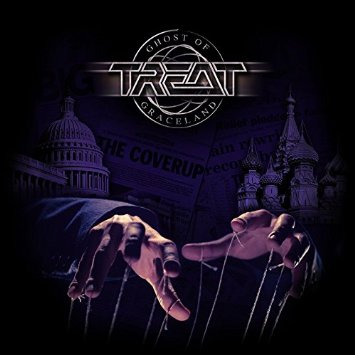 Treat – Ghost Of Graceland
Written by Juliano Mallon
It's been six long years since Treat released the now classic "Coup de Grace", but it seems that the time gap was much bigger. The quality of that work is so amazing that set a new standard for what would be released later. And the first quality test will be done with "Ghost Of Graceland," the new effort of the Swedes. With that well known melodic hard rock well, the band nailed in choosing the songs, living up to the good name built up over the years. And in addition to so much great music, it's worth mentioning Peter Mansson's outstanding job in the production department. If you're eager to know if the new album is worthy to be among the best moments of Treat's discography, get ready for a serious confirmation.
The album is packed with killer rockers, such as The great "Ghost Of Graceland", "I Do not Miss The Misery" and "Better the Devil you Know (though the brief Hammond solo sounds misplaced). Just theses first three songs justify the purchase, but if you're still not convinced, there's more... much more!
There's the killer mid-pacer "Do Your Own Stunts", the frantic rocker "Endangered" and the absolutely fantastic rocker "Hell", with a superb chorus, framed in the most traditional Scandi melodic rock tradition.
The excellent "Alien Earthlings" is a heavy mid-pacer , while "Nonstop Madness" and the awesome "Too Late to Die Young" are more dynamic rockers, built to be listened to at top volume, believe me.
Finally, there's the catchy radio friendly rocker "House On Fire" (with an absolutely killer, explosive chorus), the fantastic ballad "Together Alone" (with an intimate arrangement with keyboards, voice and bass) and "Everything to Everyone", another perfect radio friendly rocker that'll surely put a huge smile on your face.
In short, my dear friends, Treat's "Ghost Of Graceland is, without a doubt, worth the wait that lasted over half a decade. Not only the quality of its predecessor has been matched, I dare to say "Ghost Of Graceland" exceeds (by little, it is true) the mandatory "Coup De Grace". With a flawless production and an impressive set of songs (that perfectly portraitsTreat's musical identity), "Ghost Of Graceland" stands out in early 2016 as a serious contender for the title of "Album of the Year." Believe me , "Ghost Of Graceland" has to be in your collection and is one of the few mandatory purchases of the year so far.
The album is now in stores, via Frontiers Records.
Categories: Album Reviews