| | |
| --- | --- |
| Posted on April 26, 2016 at 12:50 AM | |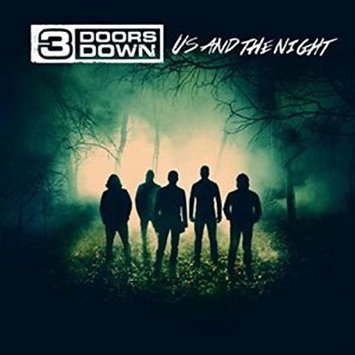 3 Doors Down – Us And The Night
Written by The Rock Man
It has been five years since we last heard from American rockers 3 Doors Down. Their 2011 album Time Of My Life, in my view, was one of the must have records of that year and it is fair to say that I have been eagerly awaiting a follow up album. In that time the band, led by original members Brad Arnold (vocals) and Chris Henderson (lead guitar), have made a few changes to the line-up with the inclusion of Justin Biltonen (bass) and Chet Roberts (rhythm guitar) joining the group. With that out of the way and the band finally settled they deliver an assortment of all new material on the much anticipated Us And The Night.
The Broken is geared to mainstream radio and is a rallying song for the disenfranchised. At times I found the song to have a Matchbox 20 feel about it but with slightly more grit and attitude. Further on down the track listing the band repeats this formula on I Don't Wanna Know, adding a subtle splash of Spanish guitars. In The Dark, Still Alive and Believe take the album into a more standard contemporary rock formation.
Inevitably the album features three power ballads which has become a compulsory inclusion on the modern day rock album. The first of these is Inside Of Me, the song is propelled by an engaging piano piece which explodes into a powerhouse of guitars, bass, drums and beautifully sung melodies. Pieces Of Me is a strongly acoustic driven track which simmers along at a nice steady pace and I wouldn't be surprised if either of these mentioned tracks find their way to a radio station near you. Rounding out the trio is Fell From The Moon which once again takes us into Rob Thomas/Matchbox 20 territory.
Love Is A Lie is an edgy tale of relationship failures and one of the standout moments of the record. Living In Your Hell also follows similar lyrical lines but is a bit lighter in musical tone. The title track harbours all the hallmarks of "classic" 3 Doors Down. Unfaltering, harmonious guitars and dynamic, driving rhythms are served on a monstrous and infectious platter of melodic choruses and harmonies.
While I personally don't think that Us And The Night reaches the heights of earlier albums such as The Better Life (2000) or Away From The Sun (2002), nor does it break any new ground, it is still a very solid outing from the lads from Mississippi. The band testify and advocate in the title track "C'mon, c'mon let's enjoy the ride" and I vehemently believe that on Us And The Night you will have a most sublime rock and roll adventure.
Categories: Album Reviews