| | |
| --- | --- |
| Posted on April 26, 2016 at 12:45 AM | |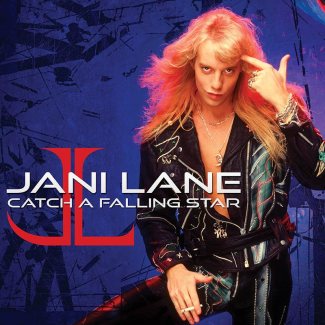 Jani Lane – Catch A Falling Star
Written by The Rock Man
Like so many others in the hard rock community, I was shocked and deeply saddened when I heard the news on 11 August 2011 that Warrant frontman Jani Lane had passed away from acute alcohol poisoning. We had already lost icons like Kevin DuBrow (Quiet Riot) in 2007 and Ronnie James Dio in 2010 and now another rock solider had fallen. However, like those mentioned, before his passing he managed to leave his footprint on the rock world with some remarkable recordings with Warrant and also various side projects.
Over the years Lane had lent his vocal talent to a number of tribute albums that have been released, now for the first time those cover versions he recorded at various stages have been compiled for a new album. The collection is titled Catch A Falling Star, which even I must admit is a pretty lame title; and it would be a shame if the title stopped punters from taking a listen because this album is full of quality gems.
For example, Lane's version of the Cheap Trick classic I Want You To Want Me which kicks off this album in stunning fashion. At this point in my life I've lost count of the number of times this track has been covered or re-worked but what Lane has done here is in my view one of the better renditions of the tune. He keeps it pretty close to the original and pretty rocking, which turns out to be a reoccurring theme throughout the album. Few people do Van Halen well; and on this occasion Lane tackles Panama and nails it.
I don't know why, but I always find other people's interpretations of Led Zeppelin to be more entertaining than the originals. I've never been a Zeppelin fan but the version of The Ocean which is on offer here is extremely solid. Clearly Lane has no issue tackling the big iconic rock/metal monsters and UFO's Doctor, Doctor and Judas Priest's Electric Eye are treated with a mountain of respect and I thought turned out to be pretty mind-blowing versions.
Closing out the album is Lay Your Hands On Me which is a real surprise. Not in terms of the quality of the track, which is consistent with the rest of the album, but surprising in that Bon Jovi have allowed someone to cover one of their songs. They have always been very guarded with their material, rarely agreeing to let anyone cover it so I don't know what Lane did to get the green light but I'm really glad he did as he really does justice to the track.
At the end of the day Catch A Falling Star is simply a great collection of classic songs sung by a guy who undoubtedly wanted to pay his respects to the music which shaped his musical career. Maybe one day someone will do the same with his music because whether he was fronting Warrant or working on any number of other projects, Jani Lane was a true rock and roll superstar that made a serious impact on the music industry of the day.
Categories: Album Reviews