| | |
| --- | --- |
| Posted on April 6, 2016 at 11:05 PM | |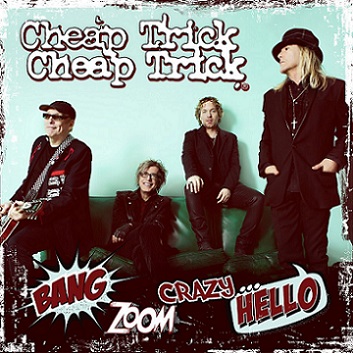 Cheap Trick – Bang, Zoom, Crazy…. Hello
Written by The Rock Man
With 16 studio albums, 7 live albums and countless compilation releases under their belts, iconic Rockford, Illinois rockers Cheap Trick have been a staple of the American music landscape for 39 years. With such an extensive catalogue of work and influence on the rock world you would think by now that there really wouldn't be much more gas left in the tank for these veteran rockers, right? Well, like me, you would be thinking wrong. The band's last studio record was the very disappointing 2009 effort The Latest and to be truthful, my thinking at the time was "Well, if this is the best they can do now maybe it's time to call it a day and make this "The Last", instead of The Latest".
At the same time I was kind of hoping that the band would rediscover its magic and release another album so that The Latest wasn't the last thing punters remembered this great band by. Several years on and I am pretty stoked to say that the boys have restored the natural order of things with their stunning 17th studio record titled Bang, Zoom, Crazy… Hello
From note one to the final seconds of this 11 track/40 minute running album the band takes the listener on an engaging and scintillating journey through their illustrious career with a variety of new tracks that could hold their own on any previous album. The styles on offer here are varied from '70s rockers to the more commercial sounding approach of the '80s and everything in between, all with a hint of modern day character.
We get this party started with Heart On The Line and as soon as it kicks off you know that Cheap Trick are going to be back to their absolute best on this effort. This rocker is full to the brim of everything which has served the band well for almost four decades. As always vocalist Robin Zander is charismatic, bassist Tom Petersson nails the sweet spot, new comer Daxx Nielsen mesmerizes on the drums while his father, Rick Nielsen is as energetic and electrifying as ever pulling out some mighty guitar riffs and solos. No Direction Home is a typical '80s radio friendly rocker and it's hardly surprising that this was chosen as the lead single. The follow up single is When I Wake Up Tomorrow which will also get you toe-tapping, although, and this might just be me, I found Zander's vocal style to be a little Julian Lennon-ish at times throughout the track. For pure '70s indulgence one can't go past Blood Red Lips.
Sing My Blues Away and The Sun Never Sets have the potential to be future radio singles from the album and are easy on the ears for that kind of audience. Two tracks that I think would have been very comfortable in the early 1990s are Roll Me and Long Time No See Ya. If you need one reason to purchase this new collection of material then the selling point, for me at least, is The In Crowd. From the moment this track starts it is irresistible with its Nielsen father and son guitar/drum swagger. Bringing this monster recording to a close is All Strung Out which in my view is best described as a raucous Alice Cooper/David Bowie hybrid with lots of '70s punch.
There is little doubt in my mind that Cheap Trick will go down in the folklore of rock superstardom as one of the all-time great rock acts. I guess their induction into the Rock and Roll Hall of Fame would support that notion, not that I put much weight in what the Rock Hall has to say. That being said, Bang, Zoom, Crazy…. Hello is not only another significant contribution to the pages of rock history, but also another pillar of strength to the band's impressive legacy.
Categories: Album Reviews