| | |
| --- | --- |
| Posted on April 6, 2016 at 11:00 PM | |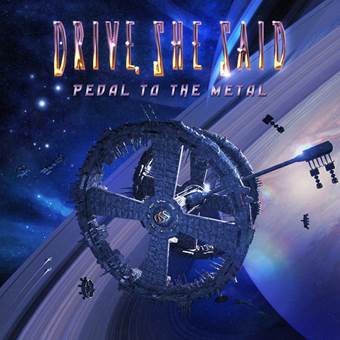 Drive, She Said – Pedal To The Metal
Written by Juliano Mallon
The duo Al Fritsch and Mark Mangold is well known in the AOR universe, creating some of the most powerful songs in that scene under the moniker Drive, She Said. The duo had their moment under the Sun between the late 1980s and early 1990s but later that same decade Drive She Said released two compilations and a shameful album. But now, six years down the road, Drive, She Said returns with "Pedal To The Metal", an album that brings back not only the classic sound of the duo, but also points to a new and exciting way to be followed by Mangold and Fritsch.
The albums is packed with great AOR, balancing guitars and keyboards mixed with soaring vocals and thrilling arrangements. It's quite hard to point out highlights with such a killer tracklist, but I really reccomend you raise the volume to 11 when playing "Touch", "Pedal To The Metal" and "In 'R Blood" (a song that reminds me of the classic sound of the first two albums Drive, She Said put out in '89 and '91).
The excellent mid-pacer "Said It All" and the rocker "Rainbows And Hurricanes" can also be easily mentioned as highlights, just as "Love Will Win In The End" (sounds like if it was taken from the classic "Drivin 'Wheel") and "In Your Arms", a beautiful ballad in which Mr. Fritsch shares the microphone with Fiona Flanagan in an absolutely '80s moment.
Finally, "Lost In You" and "All I Wanna Do" (a poignant acoustic ) round up the album in great style and, with that in mind, I can say state that "Pedal To The Metal" is a great album in the Drive, She Said's discography. Far superior to their latest effort and with and well-constructed songs and careful interpretations, Mark Mangold and Al Fritsch show that they still know how to write the kind of songs we love so much and that are registered in those spectacular albums from 1989 and 1991. Even with some less impressive moments "Pedal to the Metal" is a consistent, well produced album and full of good songs, showing that Drive, She Said still has a lot to offer. Perhaps, this album is just a sign that the best is yest to come.
"Pedal To The Metal" will hit stores on April 15th, via Frontiers Records.
Categories: Album Reviews