| | |
| --- | --- |
| Posted on April 6, 2016 at 10:40 PM | |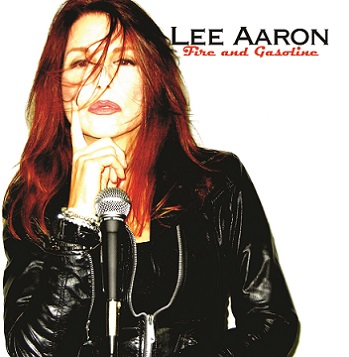 Lee Aaron – Fire And Gasoline
Written by The Rock Man
So I'll quickly set the scene. It's 1985 and I'm about 15 years old or so and early on in my discovery of all things hard rock/metal. A friend gives me a bunch of albums to check out, among them is Lee Aaron's Call Of The Wild release. At this point I had actually not considered that chicks knew how to rock, all I had experience is lame bubble-gum pop princesses on the radio. But I thought the cover was pretty cool so I gave it a try and it was one of the best gambles I ever took.
From that moment on I was a Lee Aaron disciple and eagerly awaited each new release that was to follow until the 1990s came along. Of course we all know that the '90s were a terrible decade for hard rockers and few were spared from the carnage of the grunge movement. Things quickly changed and so did the musical direction of most of the bands I listened to, and Lee Aaron was no different opting to go down the Jazz road and stating she was never going to do another rock album again.
Fortunately, for whatever reason, the once dubbed "metal queen" has had a change of heart and recorded her first "rock" album since 1994's Emotional Rain, titled Fire And Gasoline. When I first heard the news about this project I must admit I was curious about what was going to be served up, I wasn't going to expect her to re-create the Metal Queen album but I didn't want it to be some half-baked Pink rip off either. Upon hearing the lead single and opening track, Tom Boy, any fears I may have had quickly started to dissolve.
We kick off with a nice burst of electric guitar and a steady, solid drum groove accompanied by Aaron's sultry vocal style which has stood the test of time. As the song builds, in comes the chorus and boom! It's time to rock. So the opening track is a welcome return to form, but can the rest of the record follow suit? Next in the queue is the title track and this too doesn't disappoint; a nice steady melodic guitar riff simmers along during the verses and then explodes during the chorus. Adding some extra bite to the track is some smoking guitar work during the solo and at the end of the track.
I'm going to go out on a limb and suggest that Bitter Sweet was written with the thought of being a potential future single. This is a pretty melodic radio friendly rocker; the same might also be said for If You Don't Love Me Anymore. On 50 Miles Aaron taps into a more southern rock style which could be argued is tailor made for her voice, this is a real highlight and I couldn't help but think about Alannah Myles late '80s hit Black Velvet. As the record winds up Aaron takes the foot off slightly with Find The Love. This, for all intents and purposes, is a song of hope and while it does hold back a little still has some nice guitar work on display and is a satisfactory way to wrap up this collection of new material.
Fire And Gasoline is like a cousin or friend you haven't seen in years. Once, when you were much younger you were closer and on the same page but as time rolled on you ended up going down different roads and now you're catching up much older, wiser and grown up. The Lee Aaron of today isn't the same Lee Aaron of the 1980s and that's okay because she was never going to re-capture those Metal Queen or Call Of The Wild days. But instead what she has put forward is a new reinvigorated rock version of herself which is in step with today's modern rock world. Welcome back Ms. Aaron, I look forward to joining you on this new journey.
Categories: Album Reviews