| | |
| --- | --- |
| Posted on April 6, 2016 at 10:35 PM | |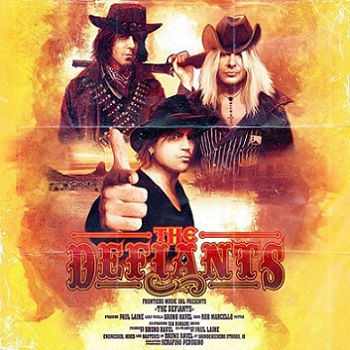 The Defiants – The Defiants
Written by Juliano Mallon
Canadian Paul Laine was already a well-known name in the melodic rock scene when he replaced Ted Poley in Danger Danger in 1994. And after a decade, it is an absolute truth that his time in th band not only brought a breath of fresh air, but especially gave their music a new face without drastically changing the band's musical identity, so cherished by fans. And even with the return of Poley - in 2009 - many fans (and I include myself in that group) wanted to see Laine collaborating again with Danger Danger. Push the clock forward some seven years and in walks Serafino Perugino, the President of Frontiers Records and responsible for the creation of The Defiants, a trio that brings together one of the Danger Danger's cores in an absolutely flawless album in the vein of the excellent "Four The Hard Way" and "the Return Of the Great Gildersleeves".
Besides the absolutely unnecessary introduction, the album brings an avalanche of killer rockers such as "Love and Bullets", "When The Lights Go Down" and "Waiting On The Heartbreak", all three absolute highlights of the album.
But there's more... much more.
"Runaway" has a strong radio friendly appeal , while "Lil 'Miss Rock' N 'Roll" is one of those rockers with a country feel blended with melodic rock, so common in albums by Bon Jovi and Poison. Also, "Last Kiss" is worth mentioning with its simple, guitar-driven arrangement.
The awesome "Save Me Tonight" emerges as an excellent mid-pacer, while "Take Me Back" is a rousing rocker that remindss me of Danger Danger, circa 2009. And talking about the past Danger Danger, "We All Fall Down" would fit perfectly on their 1997 album.
"That's When I'll Stop Loving You" is another heart-stopping mid-pacer, and "Underneath The Stars" is a fast rocker with a very contemporary appeal. Not a bad song, but it is irrelevant in the context presented here.
Summing up, my dear friends, The Defiants' debut album is the best work Danger Danger never recorded. If you are familiar with the band's work you will certainly notice the elements so evident in their albums released between 1997 and 2000. A good and healthy dose of nostalgia can be felt – and listened to - on "The Defiants", and how could it ever be different? Thank the gods it isn't. The trio feels absolutely comfortable revisiting the winning formula Danger Danger's been using since the late '80s and that's a huge plus here. There's no doubt this album is designed to please a specific group of people (Danger Danger fans, of course) and the trio made one hell of a job at it. The impressive "The Defiants" is, for sure, one of the mandatory purchases of the year.
The Defiants' self-titled debut will hit stores on April 15th, on Frontiers Records.
Categories: Album Reviews