| | |
| --- | --- |
| Posted on February 23, 2016 at 11:15 PM | |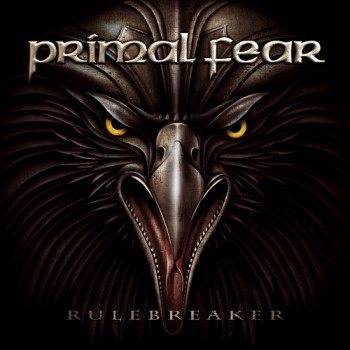 Primal Fear – Rulebreaker
Written by The Rock Man.
2016 is shaping up to be a monster year for heavy metal music. Some of the genres biggest names such as Megadeth, Anthrax, Metal Church and Metallica are all releasing new material; and if the new Rulebreaker album from German metallers Primal Fear is any indication of what to expect then metal fans have a lot to be excited about.
It only seems like yesterday that I was unwrapping their 2014 Delivering The Black album and giving it a spin for the first time. So in a world where it can take some bands 5+ years to get new material out to their fans, I have to applaud Primal Fear for keeping their nose to the grindstone and delivering another audio assault so quickly.
Primal Fear are one of those bands that you can purchase with 100% confidence that you know what you're going to hear. From album to album the band has followed a strict blueprint of wall to wall shredding, yet melodic guitars, crunching bass and drums and razor sharp vocals and on Rulebreaker that recipe is on full display. There are no surprises here folks.
This 11 track, 52 minute album launches into metal euphoria with Angels of Mercy. The seven trumpets (or horns) of heaven kick off the song and announce the arrival of Primal Fear. This is a big song which is fitting for such a big album and from here it's all about buckling up and enjoying the metal roller coaster ride which is going to unfold. The End Is Near takes us into Judas Priest territory, although having said that most of their music does. This doesn't mean however that Primal Fear are a blatant rip off of the Priest; this is just a respectful tip of the hat to their idols. Bullets & Tears keeps the metal feast going while the title track has more of a hard rock feel about it. Guitarists Alex Beyrodt, Magnus Karlsson and Tom Naumann crank out some chunky melodic riffs as singer Ralf Scheepers testifies: "I am a broken rebel on a never ending highway".
In Metal We Trust is a full steam ahead mission statement and declaration of their love for the genre. We Walk Without Fear is an 11 minute epic that sways its way through different tempo changes but packs a mighty punch at the chorus. I found Matt Sinner's bass lines and Scheeper's amazing vocal range shifting from melodically soothing to powerhouse aggression to be two of the highlights of the track. At War With The World and The Devil In Me returns the band to melodic hard rock mode, as for Constant Heart, this track comes at you at a rapid rate of knots and personally brought to mind thoughts of Judas Priest's Painkiller. The Sky Is Burning is the albums only power ballad and features a nice blend of acoustic and electric guitars. Bringing the album to a satisfying conclusion is Raving Mad which has everything you could possible want in a metal song: breakneck killer riffs, booming double bass drums and soaring vocals.
Rulebreaker is an outstanding achievement from this German metal driving force that (in my opinion) seems to be getting stronger with each release. It is an album that they and their loyal fan base should feel very proud of. If this is a snapshot of the quality of music that is to come, then 2016 could end up being one of the best years yet for heavy metal dominance since the 1980s.
Categories: Album Reviews