| | |
| --- | --- |
| Posted on February 23, 2016 at 11:10 PM | |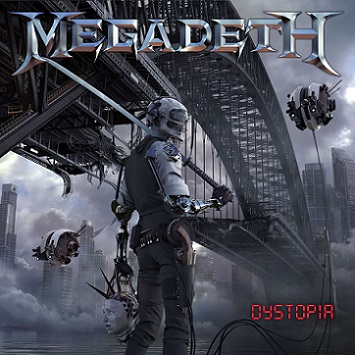 Megadeth – Dystopia
Written by Dave Smiles
You can't recreate the past. If you tried to you'd only be taking a step back and denying all you've learnt and how much you've grown. You can, however, use your past as inspiration to push yourself further and to remind yourself of the initial drive behind what you set out to achieve.
The new Megadeth album Dystopia clearly echoes their early days with the fire, speed and anger that helped them rise to notoriety. But this is not Megadeth of the eighties. This is Megadeth of 2016, a seasoned veteran of the metal genre, co-pioneers of Thrash Metal, and no stranger to controversy.
The band has always been Mustaine's vision; yet even with a revolving door of line up, it's never been a solo project. Over the course of more than thirty years and fifteen albums he's surrounded himself with some great musicians, and Dystopia brings yet another new line up. Lamb of God's drummer Chris Adler and Angra's guitarist Kiko Loureiro are now part of the Megadeth family, and what an addition they are. Not only have they brought their unique and accomplished musicianship, but they appear to have re-inspired and re-motivated Mustaine and Ellefon in to once again having something to prove. The fiery performances, intricate compositions and musicality on show here, it's is enough to draw in even the most dedicated 'old school' Megadeth fan.
Kicking off with The Threat Is Real and then the title track, we're in familiar territory where all hell is breaking loose. The unmistakable guitar tone, the solo trade-offs, the insanely good drumming from Adler. This is going to be one hell of a ride through angst, conspiracy and paranoia.
In terms of lyrics, Mustaine is just as opinionated and political as always, but the delivery he brings throughout this album takes things to a whole new level of aggression and anger that serves the subject matter. Fatal Illusion, Bullet To The Brain, Post American World are just a few examples that there's still a lot of anger within Mustaine.
Conquer or Die! Is a great instrumental track, but perhaps a little short at only three and a half minutes.
The album closer, a cover of FEAR's Foreign Policy, drips with venom as Mustaine spits out the vocals and beef's up this old punk track.
Overall, this album stacks up along with classic era releases such as Peace Sells, So Far So Good So What? and Rust In Peace, but is also accessible for audiences who came to the band during the Countdown to Extinction and Cryptic Writing era.
This is the album that Megadeth had to make at this point of their career, if not for the fans then for themselves. If it were to be their last one, it would be the perfect bookend to their career. But I believe there's still life within deth.
Categories: Album Reviews