| | |
| --- | --- |
| Posted on February 23, 2016 at 10:20 PM | |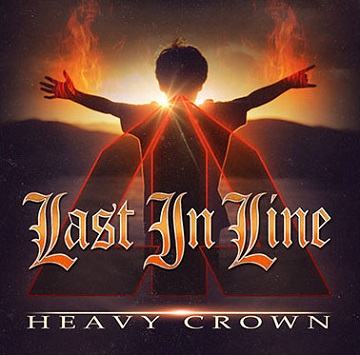 Last In Line – Heavy Crown
Written by The Rock Man
Who would have thought that the former original band members from Dio would ever be in the same room together again, let alone record and album as a new band. Yet somehow music has a way of bringing people together, especially when tragedy is involved; and in this case the sad passing of metal icon Ronnie James Dio in 2010 was the catalyst. After his passing the remaining original members, Vivian Campbell (guitars), Vinny Appice (drums), Jimmy Bain (bass) and Claude Schnell (keyboards) decided to come together with singer Andrew Freeman to perform a variety of those '80s classic Dio tunes.
From this simple idea, the band Last In Line was born. Of course for those that know their metal history, the band name, Last In Line, comes from a classic 1984 Dio album which continues to sound as fresh and relevant today as it did when it was first released. With the mood among the band at a high level it was decided they would record an album of new material and the result is the much anticipated Heavy Crown. It would be difficult to get this group of individual musicians together and not have them fall back into their old Dio ways, so it should come as no surprise that this album is flowing with Dio influence and attitude.
Throughout Heavy Crown lead singer Freeman does a sterling job of channelling RJD's vocal passion, energy and attitude; while maintaining his own singing style and sound. For his part, Campbell takes the opportunity on this record to put the hammer down and crank out some much heavier riffs and melodies which are in stark contrast to the confinements of his role in Def Leppard. In recent times Appice has been everywhere performing and recording with the likes of Kill Devil Hill, Joe Hoekstra's 13 and the newly formed Resurrection Kings. And you would think this might leave his playing a bit thin at times; however with Last In Line he delivers a solid and stunning performance, especially on cuts such as Blame It On Me.
Not long after the recording of this album the metal fraternity was shocked to learn of the sudden passing of Jimmy Bain. Bain reminds us why he was one of the most respected bass players in the business with this final spectacular performance. And it is also worth noting that shortly after the recording process began that Schnell was cut from the band; apparently Campbell and co wanted to recreate the vibe of the Holy Diver sessions which Schnell was not a part of. While this might seem a bit harsh, I personally feel the band has achieved their ultimate goal.
Musically the album has a heavy, dark and occasionally sludgy tone. Devil In Me is the album's lead single and sets a very high standard for the rest of the track list to follow. Here the band's strengths are on full display; crunchy guitars, swaggering groove laden drums and golden vocal resonance. And then there is the opening line: "Don't fall in love with a dreamer/Cause you'll always live a fantasy", that kind of lyric writing is very Dio in nature. Tracks like Starmaker, Curse The Day and Burn This House Down follow suit. I should also take a moment to mention the album's title track. There are two versions of the song Heavy Crown; the first is the fully plugged in, amped up version which, as you might suspect, features the full gambit of Dio style energy and bravado. But there is also the acoustic version which is quite breathtaking and simply irresistible, and a real star moment of the record.
From start to finish Heavy Crown is an outstanding achievement. If like me you are a fan of Dio or a fan of '80s metal in general, I really can't see any reason why this album wouldn't appeal to you. It certainly ticked all the boxes for me.
Categories: Album Reviews