| | |
| --- | --- |
| Posted on February 23, 2016 at 10:15 PM | |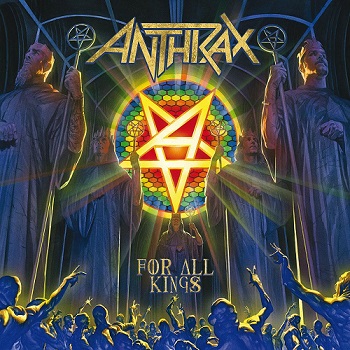 Anthrax – For All Kings
Written by Dave Smiles
I've been a fan of Anthrax since I was nine years old. For me, before Metallica, Megadeth and Slayer, there was Anthrax. The fastest, most aggressive and offensive band I'd heard up to that point. For a nine year old, this was exciting and over twenty five years later I'm still a fan.
On my first listen to For All Kings I got the same excitement I did hearing Anthrax for the first time. It's been five years since they released Worship Music, and this album is the first with Jon Donais from Shadows Fall. The solos throughout this album are amazing, taking a style that would be familiar to long time Anthrax fans into new territory.
After listening to this album for my own enjoyment, it was time to hear it again with the intent of writing this review. The musicianship and performance skills are just as strong as ever and show no signs of aging, in fact they appear to be getting better with age. What really stands out on this album is how far the band has come as song writers and how they've developed song structures. The breakdown mid-section during the six minute Impaled and the build up to the original tempo for the finale is an example how they continue to draw their listeners in. The almost eight minute epic Blood Eagle Wings seamlessly moves through its various moods and sections.
At this point of their career they've been through various line ups and altered their style a couple times. Monster At The End brings The Sound Of White Noise album to mind While other tracks bring the classic 'Euphoria / Among' era to mind, but overall, this is Anthrax doing what they do and making a statement that they're continuing to move forward into new territories.
Two 'singles' (or 'videos' in the individual track download era) have been released to date. Evil Twin and Breathing Lightning, and both are a great introducing to this album and show how much life remains in this band. Especially Evil Twin with its performances and lyrical themes. However, if these are the only songs you hear from For All Kings you're only just scratching the surface. I must make special mention to tracks Suzerian, Defend Avenge and All of Them Thieves that were stand outs for me at this point, but with so much to discover on this album with each repeated listen that's sure to change.
This is a killer album that shows vintage Anthrax for a new era. When you know what works best for you and you strive to perfect your craft you can be king of your own life. Anthrax have achieved the crown, and in doing so will inspire all those who are striving to do the same.
All hail For All Kings.
Categories: Album Reviews