| | |
| --- | --- |
| Posted on February 23, 2016 at 10:10 PM | |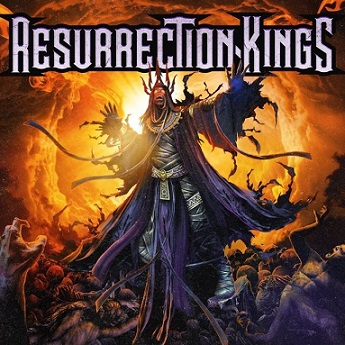 Resurrection Kings – Resurrection Kings
Written by The Rock Man
For some 30+ years I have had enormous respect and admiration for drummer Vinny Appice. Some of my most treasured Appice moments are of the time he spent playing in Dio during the 1980s. Of particular interest to me is the 1987 album Dream Evil which saw him team with guitarist Craig Goldy to record a standout piece of the band's catalogue.
At the time I thought the pairing of Goldy and Appice was simply a dynamite combination, so when I heard that Goldy was working on a new project for Frontiers Records called Resurrection Kings and that he would be joined by his former Dio bandmate, I viewed this as a reason for celebration. Adding further strength to the group is established bassist Sean McNabb (Lynch Mob/Dokken/Quiet Riot) and vocalist Chas West (Bonham/Tribes Of Gypsies) who I can only describe as David Coverdale (Whitesnake/Deep Purple) meets David Reece (Accept/Bangalore Choir) which as you can imagine makes for one cool sounding cat.
As one would expect from a coming together of aging veteran rockers from the 1980s, the overall sound of the band and debut self-titled album is going to be substantially favoured towards that "classic" '80s hard rock style. The first promotional single/video and opening track of the album is Distant Prayer. This is one of those songs that really does set the tone for the remainder of the record; the track is heavy on the chugging melodic guitar riffs, high-powered drumming, sizeable vocals and radio friendly approach.
Livin' Out Loud is a big blues influenced hard rocker which takes us into Rainbow meets Led Zeppelin territory. For the first time on the record the band ventures into '80's Whitesnake mode on Wash Away and there is more of this style of rock to come later on down the tracklisting. But while there are shades of influences throughout the record, the band does display its own brand of music very well. For example, there are tracks such as Who Did You Run To with its bed of chunky melodic guitars and massive vocal harmonies during the chorus. And then there is Path Of Love which is the second single/video from the album; this is another example of the Resurrection Kings melodic driven hard rocking blues swagger and attitude. For straight down the line, take no prisoners rock and roll be sure to give Don't Have To Fight No More a few spins, the highlight here being West's soaring vocal work.
As mentioned, there are moments on this record that harken back to the 1980s; whether that is by design or default I don't know but it is hard not to hear them. Take for example Never Say Goodbye, this was a real high point of the record for me as it comes across as a loose Bon Jovi/Whitesnake hybrid mid-tempo ballad. In addition there is also Fallin' For You, another personal favourite and once again, big on the '80's melodic guitar and multi layered vocal harmonies. And as you might expect there are a few tracks that feature that distinct Dio sound; it would be difficult for Goldy and Appice to avoid it. At this point let me take a moment to give credit to Frontiers in-house writer, musician and producer Alessandro Del Vecchio who not only has done an outstanding job as the albums producer, but also has contributed some very impressive keyboard work which has added depth and weight to the material.
As the years roll on there seems to be more and more seasoned rockers coming together to form an "All-Star" group and most of them are releasing awesome material. The problem is they only come together for the one album; I am really hoping that Resurrection Kings will be the exception to the rule. A band that can produce music of this quality really does deserve the opportunity to build a sizeable catalogue of material to be enjoyed by all.
Categories: Album Reviews