| | |
| --- | --- |
| Posted on December 13, 2015 at 10:55 PM | |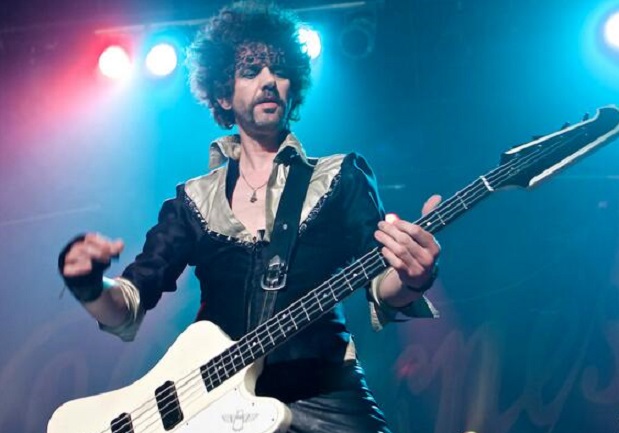 Interview with Frankie Poullain
By Dave Smiles
It's easy for me to think of The Darkness as a new band but then I have to remind myself that their debut album Permission To Land was released twelve years ago. At the time, it was a breath of fresh air or perhaps a blast from times past when rock n roll was about fun, as opposed to the self-indulgent, self-deprecating Nu Metal that dominated the charts. The big hair, the colour, the standard tuned guitars and the solos grabbed the attention of kids who had never seen or heard it before and rekindled that fire in fans of bands like Van Halen and Foreigner.
Flash forward to 2015 and it seems genres and sub genres can all co-exist. It's not uncommon to have a Nu Metal and a Glam Metal band on the same line up for a festival. What matters is the quality of the music, and fans today have access to decades of music and information on bands to know what is good and what is not.
Twelve years in music is a lifetime, and The Darkness have faced it all. Addictions, rehabs, disbanding, reforming, lineup changes, etc. It reads like a rock n roll cliché, but these are the real lives of a band dedicated to music.
I recently got to chat with bassist Frankie Poullain about the band, the industry and their new album The Last Of Our Kind.
How have the shows been going for the new album so far?
From my point of view the best ever. For a number of reasons. We changed everything for this album campaign. Changed management, labels. Unfortunately we had to change our drummer as well. So with Rufus Taylor on drums I'm just having such a good time playing with him. He's such a hard drummer. Powerful. The bands,… Dan's done a lot of riffing on this album as well. We're playing a lot of the heavy stuff from the album like Barbarian, Open Fire all the songs that are based on hard rock riffs, you know. That's really where we're at our best as a band.
How do you think the older songs go with the new drummer? Has it brought a fresh dynamic to it?
I have to say they sound better to be quite frank. But I don't wanna say anything disrespectful about Graham because there's a real likability about the way that he played as well. It's all different you know. We certainly never sounded as powerful as we sound now.
Where did the barbarian theme come from for the new album?
It came from sitting around a swimming pool in Ibiza. We were there and it was the start of the album writing process and we'd been messing around with calypso and folky kind of stuff you know. It was the start of the writing session and I think Dan just got a bit sick of it and just got his head down and came up with these riffs really quickly. He came out with the first riff first of all, he was peddling on the E, and I was playing this headless Steinberger bass which I borrowed off our sound engineer. So funny enough it came from Ibiza and the hot sunshine. And it changed the elements for the next album completely because immediately there was something there that was very powerful it was like a call to arms and a chance for Justin to escape from his turmoil at that time. Several of the songs on the album are escapist songs because we were going through a hard time, extricating ourselves from our management label, our drummer too. That was upsetting.
You guys self-produced the album didn't you?
Yeah Dan Hawkins produced our last album.
What were some of the advantages of doing that yourself?
Well empowerment. We have the expertise but ultimately the decisions are ours. Even if you're successful and you're not empowered the worst things you can complain about is other people's mistakes. You don't learn. But if you learn from your own mistakes you don't become frustrated.
Since the release of Permission To Land in 2003 how would you say the industry has changed for you in the past 10-15 years?
Technology changes and people have to adjust to those changes. Human nature hasn't changed. Still full of vultures and vampires. Cockroaches. Cocksuckers. Industry is Industry isn't it? It's just people trying to get money from other people's artistic endeavors. There are several gems in there. Good people with a love of music, but by and large there are people earning a living by sucking the blood out of other people. I hope that doesn't come across as bitter. Once upon a time I would have said that in a bitter way but now I say it as a man of experience.
You've been around a long time and been burnt. What are some of the most important lessons you've learnt so far?
The most important lesson I've learned from music so far…. it's got to come from the heart. It has to come from a good place and you've got to protect that. If something comes from a good place you have to protect it and fight for it. And don't cheapen yourself. There are several lessons in there actually. Don't cheapen yourself. I think we made a few mistakes in the Hot Cakes campaign of cheapening ourselves. We probably did the tour with Lady Gaga for a bit too long. There were a couple of videos in that campaign where the woman,… which was kind of like casual sexism and kind of clichéd. Nothing wrong with being sexy but there has to be a certain edge and point to it you know. So we're out to rectify all that on this album campaign.
So how are the dynamics of the band at the moment? Is everyone on the same page with everything operating smoothly?
I just can't believe how Rufus has helped in terms of his personality. He gets on with all of us in different ways because were different characters. He's got a great sense of humor. He doesn't take himself too seriously but at the same time he's got a real pride in what he does. He's got a great bullshit detector. He helps a lot with choosing songs for the set list and we all agree. That includes the brand new song, actually, from the next album. It's called Rack of Glam. It's about man's relationship with a female boob. It's from a Freudian perspective.
Deep lyrics
It is quite deep. There's nothing deeper then man's relationship with a boob.
So when you guys started you were kind of lumped as a retro band or however they wanted to label you guys, and now there seems there are other bands influenced by the '80s, or '70s for that matter. Do you think you paved the way for other things to come?
There's a lot more Rock and Pub Rock in Australia then there is in the U.K. I don't think we set a trend no. I think it was happening before, like the White Stripes and The Hives, who were around the same time as us. Doing a different type of 'retro' sounding rock. So no I don't think so no.
So what's next for The Darkness after you've completed the tour?
Well it's going to be a long tour. After Australia we do the U.K. up until Christmas. We do Europe in January and then we're doing South America, Eastern Europe and then we're doing the states again in May. And then we do the festival season. Any gaps in that schedule we are trying to repair are respective domestic situations. And then also do a bit of writing in France this time. We have a house there that a friend of ours has. We're going to have writing time there. That's one thing we took from this last album, the idea of going to a new place, with a new energy and tapping into that.
For more information about The Darkness visit the official website at: www.thedarkness.co.uk/
The Darkness – Last Of Our Kind is available on Canary Dwarf Records.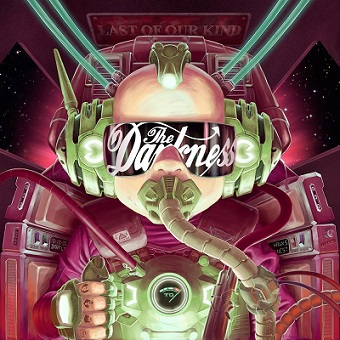 Categories: Interviews