| | |
| --- | --- |
| Posted on December 2, 2015 at 7:55 PM | |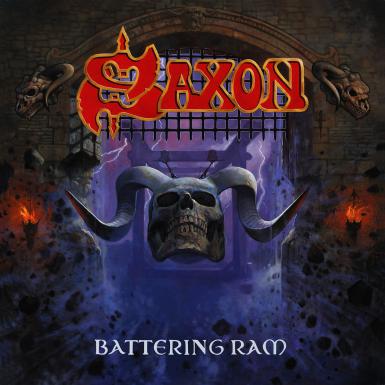 Saxon – Battering Ram
Written by The Rock Man
Since announcing themselves to the world stage during the New Wave Of Heavy Metal uprising of the late '70s/early '80s, North Yorkshire natives Saxon have been a staple of the metal scene for three and a half decades. Like many of their counterparts of the same era, Saxon is another band which could be accused of over staying their welcome and should be candidates for retirement. And just like their counterparts they answer that suggestion in the best possible way with the release of one stunning album after another. Their newest effort titled Battering Ram should put to rest any doubt that they are still a force to be reckoned with.
From moment one of this 11 track/51 minute running CD you get the feeling that Saxon are about to unleash another premium, engaging rock and metal monster. The album kicks off with the title song and does like its name suggests by hitting you like a battering ram. Here you will find a flurry of frenzied drumming by Nigel Glocker over a bed of melodic, yet gritty guitars provided by axemen Paul Quinn and Doug Scarett. And then there are the razor sharp vocals from frontman Biff Byford, whose vocal chops haven't diminished over time but instead grown stronger. In short this is 100% standard Saxon, nothing more, nothing less.
From here the band launches into The Devil's Footprint which features a 45 second spoken word monologue at the beginning of the track, this method brings to mind thoughts of Iron Maiden's Number Of The Beast. Queen Of Hearts is the band's take on Alice In Wonderland and features a chugging, melancholy, brooding guitar feel which sets the ambiance nicely. Only a metal band could get away with doing a song like this and make it sound cool.
Destroyer and Hard And Fast scream of traditional '80s metal while Eye Of The Storm and Stand Your Ground have that more modern Saxon approach and really could have features on any of their albums over the past decade. Of all the tracks featured on Battering Ram the standout must be the six minute Kingdom Of The Cross. This is a steady mid-tempo piece which features spoken word for the most part with Byford delivering a softer vocal slant during the chorus. Lyrically the track pays tribute to the brave young men who went off to fight in World War One. And it has to be said this is quite a moving moment on the record. Again, this is the kind of stuff that only a metal band can do and Saxon do it very well.  To The End is a heavy metal battle cry to the fans while Three Sheets To The Wind (The Drinking Song), a bonus track on the deluxe edition, takes us back into '80s metal territory once more.
I think it's fair to say that at this point of the band's career Battering Ram isn't going to bring any new fans their way. Overall it continues on the same style and sound of their previous several albums and isn't trying to re-invent the band's brand. However, what Battering Ram does do is consolidate their position as one of the world's most loved and influential classic metal bands.
Categories: Album Reviews